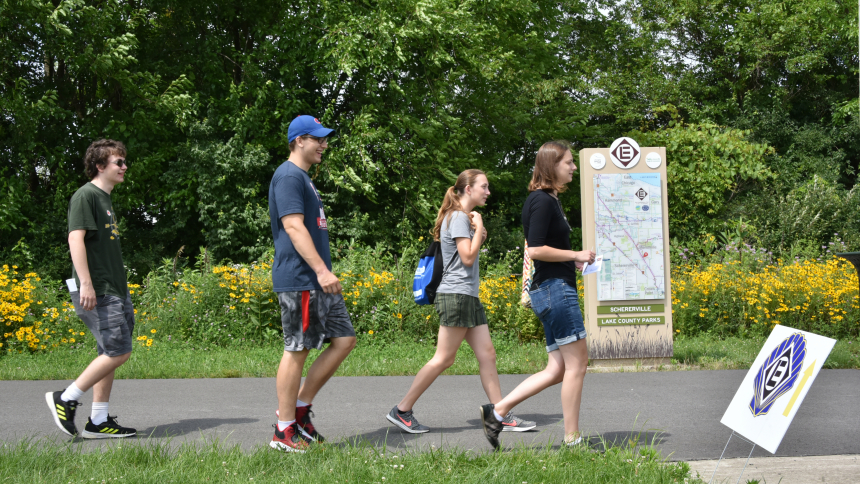 The journey of 18 miles starts with a single focus for those looking forward to the annual NWI Camino.
Restored to a two-day walking pilgrimage, members of the diocesan office for youth and young adult ministry hope the July 23-24 event will help mainly young adult participants from 18 to those in their 20s and 30s to step-by-step draw closer to God through prayer.
"We really want to give young adults an opportunity to gather together and get away from their busy lives and have this unique retreat experience," said Vicky Hathaway, diocesan youth and young adult consultant. "I would like them to see this entire moment as an opportunity for prayer."
The NWI Camino is modeled after the networks of paths to a nearly 500-mile trek through the Spanish countryside called the Camino de Santiago, or the Way of St. James. The local event relies not so much on the lore and traditions of a European pilgrimage, but more on the fervor and friendships fostered along a converted railway corridor from Crown Point to Hammond.
Eagerly anticipating his participation in the 2022 local Camino, Solomon Burgo, a St. Anthony of Padua, Fish Lake parishioner, said his initial participation in the event a few years ago piqued his interest in diocesan gatherings of young adults.
"With the (original format) two-day Camino, you had the whole afternoon on Saturday to talk to people around the campsite and really get to know people better," said Burgo. "This year I'm going to carry my own tent and sleeping bag in my backpack; I'm going to be a one-man walking campsite."
Burgo, who is an outdoors enthusiast, comes prepared for the long hike with proper footwear and a walking stick. Event coordinators offer a packing list for future pilgrims online, which includes recommended items such as water, snacks, toiletries, medications, sunscreen, extra clothes and a smartphone.
St. Mary, Crown Point, will reprise its role as the starting point for the pilgrimage. This year, the Camino will begin with 8:30 a.m. Mass celebrated at the church.
From the parish located southeast of the city square, pilgrims will head northwest on city sidewalks until they reach the Erie-Lackawanna trail head. A northerly route spanning 11 miles will eventually lead to Our Lady of Grace parish in Highland.
Along the pathway frequented by local walkers and cyclists, pilgrims of previous Caminos have enjoyed quiet strides near tree lined stretches. Some have sung church or inspirational songs in the sunshine. Others prefer uniquely Catholic forms of prayer expression.
"One of my favorite things is strolling along with a group of young Catholics and just praying the Rosary, out in God's creation," said Julia Fugger of St. Thomas More in Munster.
Fugger, who has participated in two previous NWI Caminos, said she's marked her calendar for the July pilgrimage.
The timing of the event reflects the desire of coordinators to make the connection to the Feast of St. James the Apostle, celebrated on July 25. The original spiritual quest is inspired by St. James, who about 40 years after the time of Christ was sent to convert pagans and evangelize throughout the Iberian Peninsula. James was beheaded by order of King Herrod upon his return to Jerusalem.
According to legend, a ship carrying his body washed ashore near Galicia, Spain and his remains were preserved by scallops or shells. Those ocean objects became the universal symbol of the Camino, and are common on signage.
Local pilgrims are given maps and prayer guides so individuals can travel separately and not miss designated rest stops. At trailheads and under gazebos, volunteers serve free refreshments and light lunches, offered compliments of local donors, according to Hathaway.
But first, pilgrims typically queue up to receive a unique stamp that marks their "passports," as a type of "proof" of a participant's visit.
The local Camino has featured alumni of the Spanish pilgrimage. Those pilgrims, including Hathaway, who participated in the 2017 event in Spain, have described the fellowship and complimentary refreshments as a smaller-scale reflection of the courtesies offered by some Spanish café and hostel operators.
Church leaders including Pope Benedict XVI have praised the Camino's reputation. When addressing the Compestela Holy Year 2010, he said, "It is a way sown with so many demonstrations of fervour, repentance, hospitality, art and culture which speak to us eloquently of the spiritual roots of the Old Continent."
On Saturday, July 23, pilgrims are expected to reach Our Lady of Grace church around 2 p.m. Then, they can snack, rest and set up their campsite on the parish lawn.
A 4:30 p.m. vigil Mass will be celebrated in the church, after which pilgrims are invited to fellowship, but also "resting up for Sunday," according to Hathaway.
The last leg of the journey will commence after a light breakfast on Sunday morning. Participants will rejoin the Erie-Lackawanna and stride through a 7.2-mile stretch of Highland and Hammond, where they are expected to reach All Saints Church before noon.
Like pilgrims in Spain who reach Galicia's Cathedral of Santiago de Compostela, local travelers will receive a compostela, or certificate of completion of the Camino.
European pilgrims speak of the "Call of the Camino," and similarly, some Northwest Indiana residents are attracted by a similar memory-making journey.
"I like how (the NWI Camino) happens at the same time every year because I'm at a different point (in my life)," said Fugger. "The first time I was in college, the next one I was looking to do student teaching, and this year I'm doing it right before I'm actually teaching … it's almost like a milestone or a birthday at this point."
Pre-registration is required by July 16. Sign-up forms and links to information about the NWI Camino can be found by visiting garyoyya.org/nwicamino. Hathaway can be reached at 219-769-9292, ext 229.