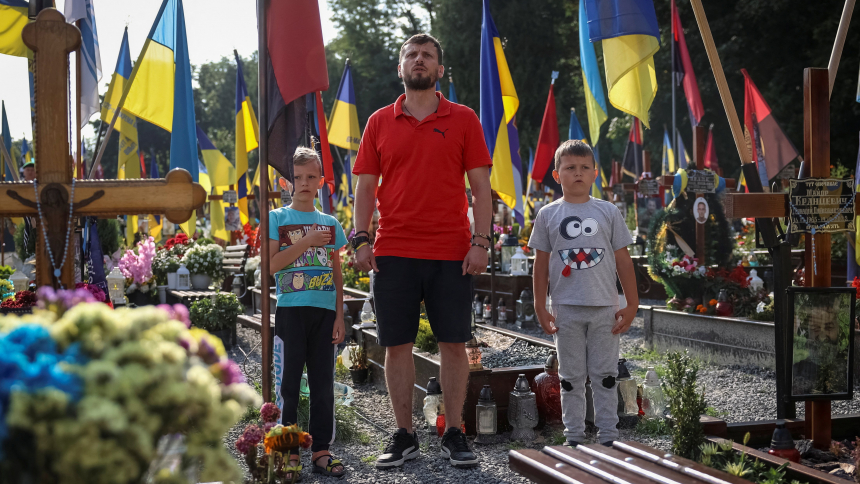 PHILADELPHIA (OSV News) - Ukraine's Independence Day, celebrated on Aug. 24, is "like a July 4th," said Metropolitan Archbishop Borys Gudziak of Philadelphia, head of Ukrainian Catholics in the U.S.
The observance marks the day in 1991 when Ukraine declared independence from the former Soviet Union. The decision was finalized in a Dec. 1, 1991, referendum that drew a resounding vote in favor.
The archbishop issued an Aug. 23 message for the occasion, which he recorded at the chancery of the Ukrainian Catholic Archeparchy of Philadelphia.
"From the place where it all began, where American freedom was announced (and) declared, where it was defended at a high price, I send greetings to all who pray for Ukraine, who advocate, inform and who help," said Archbishop Gudziak.
He described the holiday - which Ukraine is marking amid the ninth year of Russian aggression begun in 2014 and the second year of Russia's full-scale invasion - as "a time to strengthen our solidarity with the people struggling for freedom, for God-given dignity, for independence."
In 1918, Ukraine declared independence as it battled Russian "White" and "Red" forces, and in 1919 central and western Ukraine proclaimed their unity as they fought both Russian and Polish forces.
In a June 1918 article, the former Catholic Standard and Times, based in Philadelphia, reported the formation of "the new Ukrainian Republic," with an area the size of "the States of Ohio, Indiana, Illinois, Michigan and Wisconsin" containing "the greatest granary of Eastern Europe."
Following defeat by Russia's Bolsheviks and their Red Army, Ukraine was subjugated to the Russian-dominated Soviet Union for some 70 years, during which time the Ukrainian Greek Catholic Church was driven underground by Soviet persecution.
Even after Ukraine's 1991 declaration of independence, Russia continued its attempts to exert control over Ukraine, attempting to illegally annex Ukraine's Crimea peninsula in 2014 and fomenting separatist activities in Ukraine's Donetsk and Luhansk provinces.
Since launching its full-scale invasion of Ukraine in February 2022, Russia has killed more than 9,400 Ukrainian civilians and injured some 16,940, while committing at least 104,370 documented war crimes as of Aug. 24.
Currently, there are an estimated 5.1 million individuals internally displaced within Ukraine, according to the International Organization for Migration, part of the United Nations network. More than 6.2 million Ukrainians have sought safety abroad since the start of the full-scale invasion. At least 2.5 million Ukrainians have been forcibly taken to the Russian Federation, and close to 19,600 children are being held in Russian "reeducation" camps, with the actual number for the latter feared to be much higher.
From 2014 to 2021, some 14,400 Ukrainians were killed and 39,000 injured in Russian attacks, according to the United Nations Office of the High Commissioner for Human Rights.
In addition, Russia's war has resulted in profound environmental damage to Ukraine due to air, soil and water contamination from munitions and from the destruction of the Kakhovka dam. More than 6 million domestic animals have perished since February 2022.
In a July 2023 joint report, New Lines Institute and the Raoul Wallenberg Center for Human Rights reiterated their May 2022 conclusion that Russia has violated the 1948 Genocide Convention through its atrocities in Ukraine.
"May God reward you a hundredfold for everything you do to support the Ukrainian struggle," said Archbishop Gudziak. "May the people of Ukraine have the strength to make it to the end. And may the Lord help all those who help."
"Happy birthday, Ukraine," said Archbishop Gudziak. "May your freedom prevail. May the people of this land, of this city. We in Philadelphia stand with you, walk with you, and wait for the ultimate victory of truth and freedom."
The archbishop concluded his message with a well-known expression of Ukrainian patriotism that dates to Ukraine's early 20th-century independence movements: "Slava Ukraini. Heroyam Slava! (Glory to Ukraine. Glory to the heroes!)"
Caption: A family mourns on Independence Day in Lviv, Ukraine, Aug. 24, 2023, as they visit the tomb of a relative, a Ukrainian serviceman who was killed in a fight against Russian troops amid Russia's attack on Ukraine. (OSV News photo/Roman Baluk, Reuters)