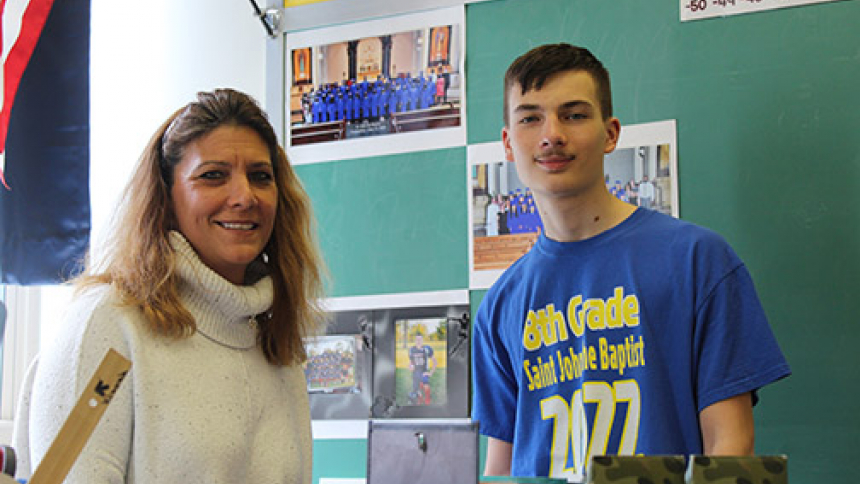 WHITING – A teacher, as well as a coach, often exhibits the traits of a parent as they guide their students. Both roles come naturally for Jennifer Klapak, a veteran prep coach in the Whiting and Hammond communities and a mathematics teacher at St. John the Baptist School.
Which means that in addition to her only child, son Reagan, hundreds of local students and athletes will be celebrating Klapak on Mother's Day, May 8.
"Jen is super involved not only in the school as a teacher and coach, but is also very involved in our parish," said SJB principal Jessica Gonzalez in nominating Klapak for a Mother's Day feature.
"She's caring, helping people in sports and in school," said Reagan Klapak, an eighth grader at SJB who is still honing in on which area high school will offer him the best STEM (Science, Technology, Engineering and Math) education. "In math, she's good at breaking down complex problems. She helps anyone and everyone."
For son Reagan, Mother's Day is "is a day to celebrate our moms, a day for them because they do so much for us. We get together with our family; it's a fun day."
For mom Jennifer, Mother's Day is about "appreciation and thankfulness," but not focusing on her. "I wouldn't be here if I hadn't been supported in everything by my mother and grandmothers," she said. "My mother volunteered as a school nurse here at St. John the Baptist when I was a student, and my grandmothers sold raffle tickets and volunteered."
Klapak now plants flowers on her grandmothers' graves for Mother's Day, then enjoys the day with her extended family. "We all get together for dinner – my dad shops and my husband grills with assistance from my brother-in-law. My sister Karen Lauerman, who has been battling cancer and just found out she is cancer-free, is my son's godmother, so we celebrate her, too." 
While Klapak has been a full-time middle school math teacher at SJB for three years, she began taking long-term substitute teaching jobs for the School   City of Hammond in 1996, teaching at every grade level from high school down to kindergarten. "My husband, Ed Klapak, met while coaching at Clark High. He's been a government teacher for 23 years, now at Hammond Central High School," noted Jennifer.
A Whiting native, Jennifer (Lukasik) Klapak is a member of the SJB class of 1988 who went on to Hammond Clark High School, where she played sports, and earned a criminal justice degree from Aurora University. Returning to the Calumet Region, she followed through on a dream she had from the age of five and bought the Whiting Dairy Queen restaurant, which she operated for 21 years. "The crunch cone is my favorite, but only in small amounts now," she added.
She also began coaching junior varsity girls volleyball in 1996 at Clark High and after 10 years, moved to Griffith High in the same role, then returned to Clark as varsity girls volleyball coach for three years before coming to Whiting High, where she recently completed her second year as head varsity girls volleyball coach.
"Ed and I coached boys basketball this year at SJB, too," Klapak explained. "When we married, we were coaching five sports between us – one together. He was the varsity girls basketball coach at Clark, and I was the JV coach."
Klapak said she "loves coaching, because it is always different – different players, abilities, teams … I like to see the progress they make on the court, and to study opponents to find their strong points and how we can counter them. I need that challenge."
She also finds the same satisfaction in teaching math. "Math is a challenge to a lot of kids, and I like that I get to see the light bulb go off when I can help them," she said. "What you are required to learn is always changing – I'm teaching algebra to eighth graders now. What you once taught to seventh and eighth graders is now taught in third and fourth grade."
In addition to helping her parents, Ken and Carol Lukasik, as needed, she has been a caregiver for her uncle, Steve Mihalso, for three years. She even answers 11:30 p.m. emails from students who have questions about homework or personal problems.
At her parish, Lukasik and her son organize the annual pet blessing and she has served as a confirmation sponsor for several of her students. "I participate in fundraisers and service projects at the school – it's good for the kids to see that their teachers are active, and real people."
While she chose Monica, the patron saint of mothers, as her confirmation name, Klapak didn't always want to be a mother. "Kids scared me – even my own until he was about three months old," she admitted.
Now, she couldn't imagine life without Reagan. "We have a very good relationship," she said proudly. "He wants to be a U.S. Marine, and this summer he is attending a STEM program at Villanova University. The best thing about being a mom is seeing his growth, maturity and knowledge expand."
Klapak said she tells her son the same thing she tells her other students about their faith: "You don't have to wear your faith on your sleeve, but know your roots and remain true to your faith."
Caption: Jennifer Klapak shares a moment in her classroom at St. John the Baptist School in Whiting with her son, Reagan Klapak, an eighth grader at the school. A math teacher, Jennifer expressed great pride in her son, who is an excellent Science, Technology, Engineering and Math (STEM) student studying in an accelerated program at Bishop Noll Institute this year. (Marlene A. Zloza photo)