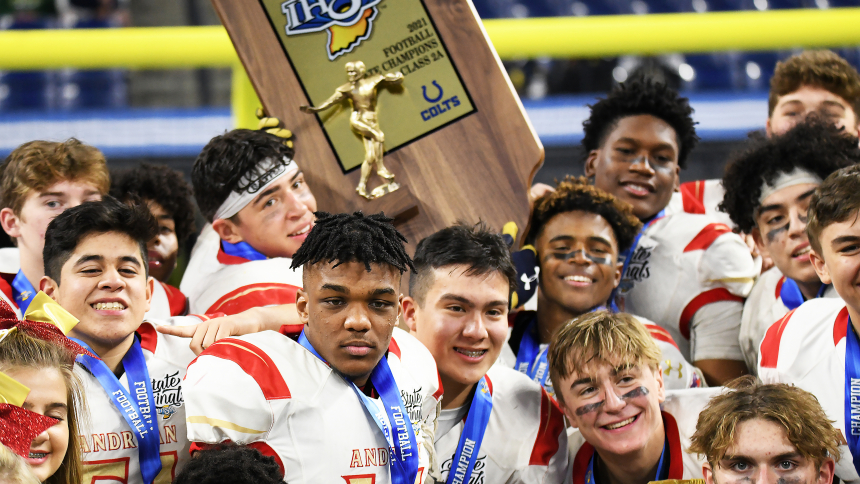 INDIANAPOLIS – Knotted up at 0-0 at halftime, fans of the Andrean High School 59ers and the Evansville Mater Dei High School Wildcats continued cheering on their teams as they wondered who would get the upper hand in the second half of the IHSAA Class 2A football title game on Nov. 27.
      On large video monitors at Lucas Oil Stadium, sixth-year 59ers Head Coach Chris Skinner said during a raucous pre-game introduction, "For us to be here and represent the Andrean community is special ... I tell the (players) to remember that we love each other as a family … Here come the Fighting 59ers. It all comes down to this."
      The 59er family came together with a second-half intensity that was dominated by junior running back/linebacker Drayk Bowen. The 11-3 team that spent their regular season largely playing opponents a class or two higher, used a three-touchdown second half to post a 21-9 championship victory.
      The Wildcats (12-2) scratched their way to the first score of the game, a touchdown at 3:40 in the third quarter on a 22-yard run by junior quarterback Mason Wunderlich.
      But a blocked extra-point attempt courtesy of 59ers defensive end Dh'mari Wright and defensive lineman Jaden Marsh, both seniors, provided the team and fans with a spark of inspiration.
      The celebrations marked the tale of two halves – the Wildcats from the Diocese of Evansville added only a field goal the rest of the way.
      Andrean's offense got into rhythm. Bowen scored on carries from 29-, 2- and 3-yards out, while the Ballentines – sophomore QB Scott and his brother senior wide receiver and defensive back Robert connected on three throws.
      Scott Ballentine completed passes to sophomore Patrick Clacks III six times, to senior Alonzo Paul, Jr. four times, and to senior Eddie Bastardo twice.
      Bowen, who has unofficially committed to the University of Notre Dame, finished with 173 yards rushing on 24 carries, with only two for a loss of yards.
      Senior tight end/defensive lineman Dominic DiTola led the 59ers with six solo tackles, including a sack.
      Scott Ballentine went 15 for 23 in the air, gaining 115 yards, and was sacked three times. Each team scored a touchdown resulting from turnovers.
      As time expired in the fourth quarter with a 21-9 tally on the scoreboard, 59ers players, especially many seniors, followed up their cheers with tears and hugs. Coach Skinner and his assistants embraced players who cried, "We did it," and "I'm proud of you, man."
      "I told the players (at halftime) that they've got to stay positive, stay within themselves. We've battled adversity all year, and as long as we stay as one unit, we'd be able to come back," said six-year assistant coach Pete Monger. "I saw passion in these kids' eyes; they wanted this one really bad."
      Broadcast crews gathered around the Ballentine family as Robert Ballentine was awarded the Class 2A Blake Ress Mental Attitude Award, given to a school-nominated senior student-athlete "who has demonstrated excellence in mental attitude, scholarship, leadership and athletic ability during his four years of high school."
      The Ballentine boys' parents Shawn and Julie Ballentine said the championship run for the two St. Mary Catholic Community School of Crown Point graduates was an effort born of hard work and brotherly love.
      "It's amazing; we're so proud of him," mom Julie Ballentine said of Robert. "He works so hard on his academics, his attitude and his grades. He's proud of his faith."
      "It's been a dream for (Robert) to help his brother win a state championship," added Shawn Ballentine.
      Bowen queued up with his teammates as each received a ribbon and medallion shaped like the state of Indiana. The football standout and Lake Central High School transfer struck a modest tone, thanking his parents for encouraging him in his studies, and his coaches for helping him become the player he is today.
      "I've matured a lot; I've matured into my body type," said Bowen, who'll wear No. 34 for another year.
      He said the coaching and professional staff helped him keep perspective in the title game. "They helped me process all that when the pressure was on … I knew it was going to be a big game. I knew to keep calm and collected."
      Bowen complimented the AHS defense, especially its performance during the playoffs. "Everyone's going 100%," he said.
      Skinner, who Andrean Principal Jaycob Knazur praised as "a 'Niner for all seasons," as the first person in Indiana High School Athletic Association history to win a football championship as a player, assistant coach, and head coach, said AHS is the right place to develop a student-athlete.
      "I'm extremely proud to be a part of this school – it's a special place. There's a culture of excellence and I'm very happy that we can (win)," he said. "There's so much (preparation) that goes into it – it just doesn't happen by talent alone ... I think when you've reached that pinnacle goal, you're overcome with emotion."
      Parent Antuan Barnes was cheering on his son, sending tips through an old-fashioned megaphone. He said he loves defense, and was encouraging No. 20, junior running back/defensive back Antonio Barnes, also a Lake Central transfer, "to read the keys."
      "Defense wins championships, so I wanted (Antonio) to remember all the film we viewed," said Antuan Barnes, who has played and coached football.
      The elder Barnes praised the atmosphere that surrounds the Andrean family.
      "This is beautiful for the kids, something they've been a part of since they were knee-high," said Barnes. "To have a successful environment you have to have a successful culture and they've built that over here at Andrean."
      He continued, "With sports, it brings unity. All that about color, all that evil, all that stuff is out the window; this is a time when people get together and love each other and cheer on their respective teams. If we could put the world inside this dome, we'd have a happier world."
      From the 59ers sidelines, Knazur and assistant principal Kelly Fitzgerald watched each play as intently as the students in the festive cheering section. "It's amazing because of all the hard work our students, coaches, and athletic department put in. They've just done a terrific job in representing Andrean and I couldn't be prouder to be part of it," said Fitzgerald.
      The administrative duo joined 59ers athletic director Mike Schultz to congratulate the state champions on the field.
      "My pride in Andrean at moments of achievement is immense," said Knazur, who was an Andrean senior during the 59ers state championship of 2004, was in his first-year teaching for the 2013 title, and is presently in his third year as principal. "Our culture of excellence continues as we give credit to our God, our family, and our tradition in these moments of recognition."