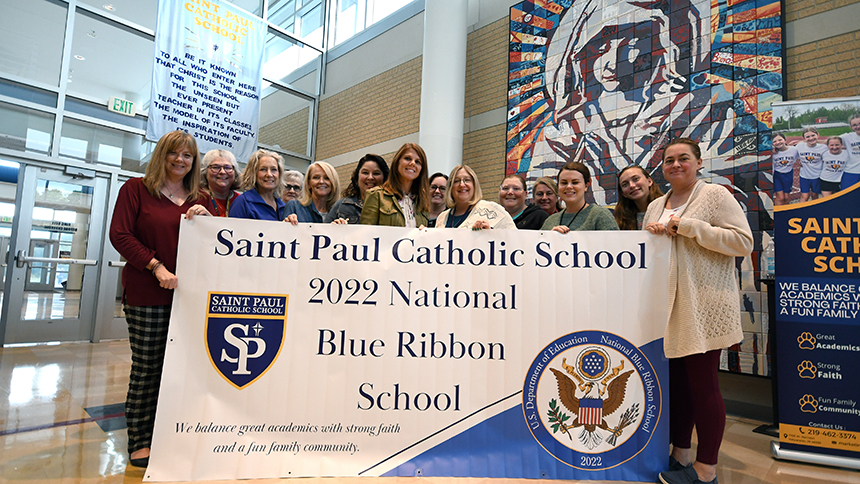 VALPARAISO – When Lisa Hughes arrived as the new principal at St. Paul School just over a year ago, she could tell she had found a special place. She decided to take a chance and invest the extra time and effort to find out if her Diocese of Gary school rated national honors. The answer is a resounding "Yes!" as St. Paul was recently recognized as one of less than 300 National Blue Ribbon Schools for 2022.
"We are ecstatic to be one of 297 schools receiving this prestigious award," said Hughes, who came to St. Paul after 22 years as a middle school science teacher at St. Patrick School in Chesterton and two years as assistant principal at St. Mary Catholic Community School in Crown Point.
In order to be nominated as a Blue Ribbon school, said Hughes, "a school (must be) recognized as 'Exemplary High Performing' – student achievement in English and mathematics (must be) among the highest in the country (top 15%), measured by state assessments or nationally normed tests. Schools are nominated by the state department of education, and then complete a comprehensive application about school practices," explained Hughes.
U.S. Secretary of Education Miguel A. Cardona last month named 297 National Blue Ribbon Schools for 2022 based on overall academic excellence or progress in closing achievement gaps among student subgroups.
The 273 public and 24 private schools represent public and non-public elementary, middle, and high schools, including traditional, charter, magnet schools, parochial and independent schools. St. Paul is the only school in the Diocese of Gary and one of only three Catholic schools in Indiana selected.
The Indiana Department of Education and the Council for American Private Education nominated each awarded public and non-public school for consideration in the U.S. Department of Education's "Exemplary High Performing Schools" category. This category honors the schools with the highest graduation rates and highest achieving students in English/language arts and mathematics as measured by state assessments. After being nominated, the schools completed an application detailing their curriculum, culture, leadership and engagement, evaluated by the USDE.
"We received this award due in large part to the endless support of our community - the families and parishioners who support our hard-working students, faculty and staff, both in our school and at home," Hughes noted. "This is a reflection on the work of our previous principals, Mary Knarr, Jane Scupham and Gina Wagenblast."
"Our faculty is always working to improve our curriculum, sharpen our focus, reevaluate our programs to meet state standards," said Kate Bogan, middle school social studies and religion teacher for 16 years. "When COVID-19 hit, we worked 24/7 to keep our school going with online classes, and then came back in the fall of 2020 with masks and other protocols to keep students learning."
Donna Shane has been teaching kindergarten for 17 years at St. Paul and helped complete the Blue Ribbon application. "It was interesting to go back to when the school was smaller," she said. With enrollment rising to 236 this fall, "People here now seem more invested in our faith community and are willing to help wherever they can," added Shane, who is proud of a Marian University grant that has trained seven St. Paul teachers to effectively tutor students in reading skills during the school year and in free summer classes.
Family Fridays is another program that sets St. Paul apart, Hughes believes. To start the school year, each eighth grader (and an adult mentor) is assigned a "family" with at least one student from each grade level. The group picks a name and T-shirt design, wearing their shirts monthly for morning Mass and meeting that afternoon to share a fun service project, like forming a human chain to move donated food from classrooms for sorting and packing into Thanksgiving food baskets.
"The students get to know other students in different grades and have fun together," said Hughes. "I think it's a highlight and they are so excited it's back (after a pause during COVID-19 contact tracing protocols) this year."
Eighth-grader Molly Page, a St. Paul student for nine years, agreed that Family Fridays are special. "We get to talk to students in other grades," said the Companions family member.
Classmate Moira Uka likes her school's "community feeling. We get a lot of help from the teachers," a sentiment echoed by fellow eighth-grader Abby Miller, who has been attending St. Paul since kindergarten. "You know everyone's name, and the teachers are helpful, not just with classes, but helping us succeed as a person," she said.
Samantha Schenzel recalls having trouble with seventh-grade grammar. "I struggled to grasp our English teacher's method, but then I talked to her after class and she helped me understand it."
"I am extremely proud of this accomplishment, one that is not easily achieved," said Dr. Joseph Majchrowicz, diocesan superintendent of schools. "The recognition came about because of the dedicated team effort involving students, staff, school and church leaders, as well as community members.
"More important than the recognition is the fact that the values imbued by this reward are instilled and lived daily by all involved at St. Paul School. Those Catholic values are a way of life in their culture. They truly present a shining example of Academic Excellence Inspired by Faith in Action, and for that they have been recognized," he added.
"Out of 297 schools nationwide, Indiana had just 10 schools receive Blue Ribbon School distinction, with two of those (St. Paul and Central Elementary) located in Valparaiso," said State Sen. Ed Charbonneau (R-Valparaiso). "Our local schools are constantly working to help our children gain the most from their education, and it is truly excellent to see their hard work pay off."
Parent Brandy Raffin, who has three daughters attending St. Paul, said the Blue Ribbon award, "acknowledges what I already knew, that our kids are getting a top-notch education from people who feel like family more than just teachers. They care for our children like they are their children."