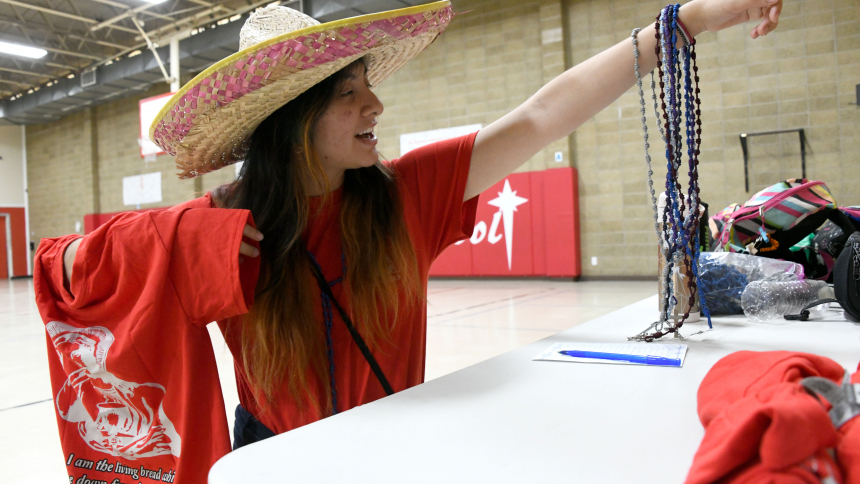 PORTAGE – Half-day summer sessions filled with lessons, discussions, sacrament, games and religious swag could only describe one unique mission-based offering hosted at parishes. Totus Tuus, a national youth program, debuted this season on June 20 at Nativity of Our Savior.
The Portage church's pastor, director of religious formation and other staff members welcomed the day camp as its young adult "missionaries" turned vacant air-conditioned summer classrooms into hot spots of Catholic catechesis and youthful expression.
"I feel that we are reclaiming our Catholic identity with our youth in our parish because this program is so uniquely and unapologetically Catholic," said Jason Yurechko, Nativity DRF. "We are showing our youth, through the Totus Tuus missionaries, that our Catholic Faith is much bigger than just our parish or our diocese … I can see the relationship between our Totus Tuus campers and our Lord growing in their prayers throughout the week."
Totus Tuus, developed by the Diocese of Wichita, Kansas, is designed to strike a balance between "an authentic sacramental life and Christian witness." The name of the initiative is commonly recognized as the motto of St. John Paul the II. Totus Tuus is Latin for "totally yours."
That phrase refers to the late pontiff's Marian devotion and is reflected in a prayer he composed to the Blessed Mother: "Think your thoughts in my mind, love through my heart, give me your dispositions and feelings. Teach, lead me and guide me to Jesus. Correct, enlighten and expand my thoughts and behavior."
Before the sixth annual offering of the Totus Tuus sessions, Sean Martin, diocesan director of evangelization, catechesis and family life, coordinated a one-week teacher training session at the Diocese of Gary's Camp Lawrence starting on June 2.
From theological discussions on the sunny meadows near the lake on the diocesan property to Mass in the chapel, missionaries – as Totus Tuus young adult teachers are called – learned the program's strategies and reinforced their faith.
"We teach content as well as methodology," Martin said. "So (the missionaries) learn how to actually lesson plan. Here at the school, I'm seeing all of that being put into action."
The strategies applied during teaching sessions with the youth are of a saintly inspiration.
"We have four classes each day intermixed with skits and silly songs and games," explained Martin. "It's lots of fun. It's actually a method of St. John Bosco, patron saint of youth, to engage them in activities – he said, 'get them to love you.'"
Among the students at the Camp Lawrence training were missionaries from the Archdiocese of Indianapolis and the Diocese of Lafayette-in-Indiana. Martin recruited four collegians from outside the Region to join two locals and two seminarians, Ryan Pierce and Ethan Vinyard, to serve on two teams, each simultaneously coordinating a parish mission.
At Nativity, the first of nine diocesan parishes to host the Totus Tuus program, Pierce worked with missionaries Christopher Dacanay, a Pittsburgh native, Hannah Fitzgerald of New York and Dulce Saravaneli Serrato from Texas.
Dacanay said since attending Franciscan University of Steubenville (Ohio), he has fostered a deeper prayer life, and wishes to use this summer to reach some of his goals including "imparting upon kids that most essential aspect of a personal relationship with Jesus, because people are lacking a sense of belonging and a sense of meaning."
In lessons that were designed to be brief and lively, elementary schoolers explored how we communicate with God, specifically through prayers like the Our Father. Dacanay said this provided the opportunity to present the youth with a pint-size interpretation of a big idea.
"I can talk about, (the line) 'hallowed be thy name.' And that means respect God's name because you wouldn't want someone disrespecting your name," Dacanay said. "Make it applicable to (the youth) in some way."
That was right in tune with what Martin said was the overarching aim of the sessions: "The goal is to catechize the youth."
"We learned just how much the Our Father means," said Makenzie Soto, 11, about the line-by-line illustration of the Lord's prayer taught by the missionaries. "I like learning about Jesus and getting closer and learning more about Church."
Her sister and fellow day camper Rubie Soto, 9, enjoyed the lighter side of the sessions.
"I liked doing the dances and songs," said Rubie Soto. "It's really fun hanging out with my sister."
The Sotos said they each explain to their parents about the new facets of the faith they learn each day. "I told my parents we had a very exhilarating day," said Makenzie Soto.
Martin said such discussions among family members are part of the hoped-for evangelization component of Totus Tuus.
According to Yurechko, some of the Totus Tuus lessons overlap the faith formation goals of the host parish.
"I am very excited to see the missionaries spending the time to unpack the Luminous Mysteries of the Rosary with our young campers," Yurechko explained. "This enhances what we teach here at Nativity of Our Savior Catholic School through our Rosary Club … they are building that love of Jesus through Mary."
Before the students would feed their bodies, they nourished their souls. Mass is celebrated before lunchtime during each of the Totus Tuus day sessions. At Nativity, Pastor Father Kevin McCarthy, in his engaging style, was the celebrant.
At each host parish, an evening session is dedicated to junior and senior high school students. Called Twilight campers, the teens are offered the opportunity to dive deeper into their faith.
Yurechko said the personal questions from the youth to the panel of missionaries showed the curiosity and fervor for learning among adolescents.
"As one of the Totus Tuus missionaries stated, 'by questioning your faith, and seeking good resources for answers like the Catechism, the YOUCAT, or great Catholic websites, you grow closer to Christ,'" he said.
Keeping youth engaged requires interspersing some non-religious topics, as well as the occasional exercise workout.
Pierce conducted his "Man Cave" sessions about how to be a gentleman – holding doors, and letting ladies go ahead. One of his challenges for the teens was a pushup contest.
Serrato, a first-time missionary, said the chance to spread the faith while she is young is a dream come true. And working with the others is a blessing.
"With our small teams we work on praying together so that we can give the children (and ourselves) to the Immaculate Heart of Mary, so that we too can be God's instruments," Serrato said.
Martin knows through faithful teaching much is gained by individual missionaries, as well as the whole Church family.
"One of the important parts of Totus Tuus is that while the missionaries are catechizing and evangelizing parishes, it is fostering Catholic leadership and developing friendships," Martin said.