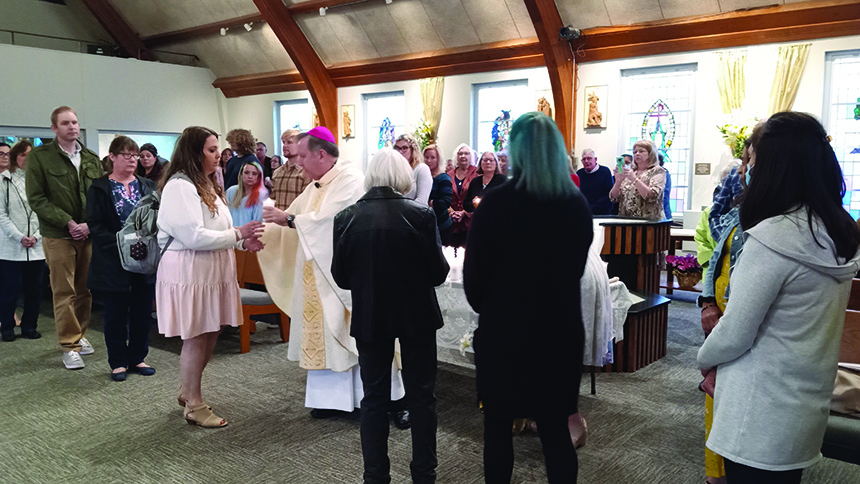 The sacrificial offering of Jesus at the altar provides comfort in times of grief, Bishop Robert J. McClory shared during his homily at a Diocese of Gary Infancy & Infant Loss Memorial Mass in honor of babies who died before birth or as infants. Sponsored by Miscarriage, Mothers and Others, about 200 people attended the May 1 service and reception at St. Edward in Lowell.
"It was such a beautiful event," said Father Rick Holy, pastor of St. Edward. "This was a special Mass that united families in a special way," he said. "There are so, so many people who are hurting and never had the chance for a proper goodbye. Here is the chance. We remember and we care."
In solemn honor, St. Edward music minister David Herr, assistant to the director for the diocesan Office of Worship, read 120 names of those who died in utero or as infants, while candles were lit in their honor. Following his homily, Bishop McClory presented each family with one of the lit candles.
Patty Perez, who came from Hobart to participate, appreciated the sentiment. "This was beautiful," she said. "Preparing for today really helped us with remembering past generations and family members who we have lost," she said. "There have been a few miscarriages and early infant deaths in our family. My father even lost a brother. We really appreciate this opportunity to remember and share."
Her dad, Froilan Cervantes, said the Mass and homily were inspiring. "This is the first time I have run into something like this," he said. "This was so meaningful. We all got together for this."
Jill McNamara, founder and president of Miscarriage, Mothers and Others, described the Mass as emotional. "This just showed so much that there is a need for this for the families and for the babies who have never been acknowledged by this," she said. "It is very validating."
Celebrating during the Easter season was especially inspiring, McNamara noted. "It was so bright and colorful; the fresh spring flowers, the beauty and new life were so uplifting," she said.
Bishop McClory explained during his homily how the message of the Easter Resurrection "bursts with vitality" with an emphasis on growth in the Church, spreading of the Gospel and encountering Jesus, all intertwined with a note of suffering.
He also shared thoughts from a family friend who has lost six children in utero and gave birth to three children. He relayed her comments that "as hard as it is to lose a baby at any stage of development…we can say 'thank you Jesus' for this baby because my life is much richer having had him or her for this very short time. I know this baby is a blessing and I have no regrets."
Bishop McClory said the faithful can place their sufferings, pain and anger on the altar in the Holy Sacrifice of the Mass. The consecration is a "powerful moment in which we place all that hurt and see the Lord transfigured into all of his glory…God pours out his unconditional love and healing without limits."
Father Holy said quite often mothers who have lost a child in utero do not feel worthy. "This gives these mothers their own day," he stressed. "And this is a way we can help them get through Mother's Day."
McNamara agreed, noting that International Bereaved Mother's Day is the first Sunday in May. "This day honors mothers who have lost a child" and recognizes women who cannot be a mother due to infertility or other health reasons, she explained. "One of the hardest days for many women around the world can be Mother's Day," she said. "They are mothers and have a biological bond with the child they lost," she said.
McNamara said whether the death of a child happened recently or decades ago, people need support and love. Miscarriage Mothers and Others provides education, information and resources for Indiana parents with the respectful burial of fetal remains.
Miscarriage, Mothers and Others will be scheduling an event on Oct. 9, the Sunday before Oct. 15 – World Pregnancy and Infant Loss Remembrance Day. The event will include an annual International Wave of Light remembrance. Participants will light a candle at 7 p.m. local time to honor all babies gone too soon and keep it lit for at least one hour to create a continuous "wave of light" across all time zones covering the entire globe, McNamara said.