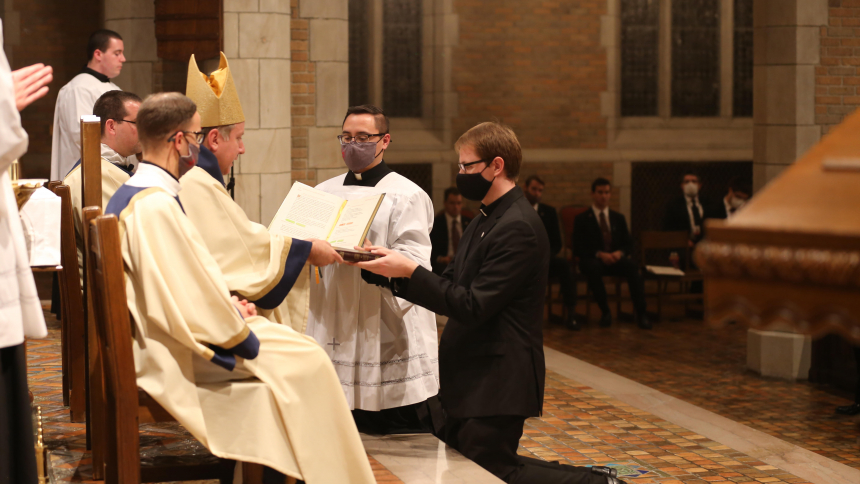 On Friday, November 5th, Bishop Robert McClory celebrated the Institution of Lectors and Acolytes at Sacred Heart Major Seminary in Detroit, MI.
The Ministries of Lector and Acolyte are canonically-designated ministries in which individuals are formally instituted through a liturgical act.  Men in preparation for Holy Orders (diaconate and priesthood) are instituted in these ministries at various points in their formation, designating them to service of the Word (Lectors) and service at the Altar (Acolytes).
In the seminary environment, a sending Bishop--one who sends his seminarians to the particular seminary--is customarily invited to preside over the liturgy.  Per invitation, Bishop McClory celebrated the November 5th Mass, instituting twelve seminarians as acolytes and another twelve as lectors.  Among the instituted lectors were Diocese of Gary seminarians Zach Glick and Steven Caraher.  Currently, five seminarians of the Diocese of Gary are in priestly formation at Sacred Heart Major Seminary.   
(Photo descriptions: Bishop McClory hands Diocese of Gary seminarian (Zach Glick / Steven Caraher) a Bible at the Mass of Institution of Lectors and Acolytes at Sacred Heart Major Seminary in Detroit on Friday, November 5th)