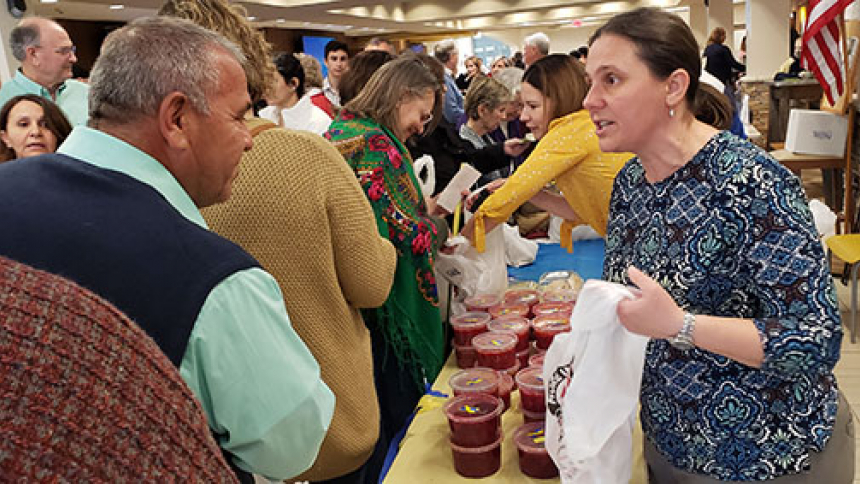 MICHIGAN CITY – Despite being several thousands of miles away, the war in Ukraine has become much closer and personal for LaPorte County resident Kasia Kelly. She moved from Poland to the United States 18 years ago, and still has family back in her native country.
When Kelly awoke on Feb. 24, it wasn't going to be the birthday she had hoped for. Joyous birthday wishes were overshadowed by the dark, sad news she read that morning of Russia's invasion of Ukraine. Calls from her dad, Alojzy Przybyla, and sister, Malgorzata Przybyla, both of whom where in "great fear, disbelief, and a sense of what's happening."
Kelly described how Vladimir Putin's invasion of Ukraine opened old wounds and created a sense of fear in the Polish people. She explained how the "horrific reports" that were being shared quickly reminded the people of what many endured during World War II. "When Putin invaded Ukraine, it became so fresh once again. The fear of what's coming next. This is our eastern neighbor and it's so close," said Kelly.
Alojzy told her it was estimated that over one million Ukrainian refugees were expected to cross the border into Poland to escape the Russian invasion. Kelly said her dad questioned, "how will Poland, a small and not wealthy country, manage in a situation like this?" Now, a few weeks later, more than two million have entered Poland. Kelly explained the refugees don't stay in the eastern part of the country, but board trains and bus scattering throughout. 
Malgorzata stressed that those entering Poland are called guests, not refugees. "We treat them as such, according to the old easter European saying "Guest home, God home."
Malgorzata and Alojzy live in Katowice, a large city about four hours west of the Ukrainian border. Trains bring nearly 700 guests into the city, where volunteers, including Malgorzata and her children, greet them with sandwiches, milk, juice boxes, pacifiers, and blankets. While some guests go to shelters, hotels, or dorms, others find comfort in regular people's homes. "My cousin, Marta, now hosts a mom and daughter at her home. Another friend hosts a grandma, a mother, and two kids," said Kelly. Even pets are cared for.
To help the new guests, in large cities throughout Poland a facility is designated as a free donation hub where people can drop off needed items including clothes, blankets, baby accessories. Social media posts provide information of what is needed. With the influx of Ukrainian children entering Polish schools, volunteers created a nationwide backpack initiative. The Polish government gives Ukrainian guests free healthcare and financial social support for the children. Cities organize free activities in preschools and health clubs. There have been Masses celebrated in Ukrainian, and lessons of Ukrainian language on the radio.
Malgorzata, a psychologist, has joined a group of volunteers who provide mental health support for the Ukrainians. Interacting with the guests, especially the children, has left a lasting impact. In  a visit with one of the children, Milene, a 9-year-old,the young girl described the drawing she made. "Russia and Ukraine used to be friends, but the war came and they are not friends anymore. Russia is sad now, but Ukraine is happy, because it is here (in Poland), because there are good people here and I am happy."  When Malgorzata asked where Milene and her family are going, she replied, "I don't know, we are just traveling." 
Malgorzata estimated that 60% of the Polish people are generously helping Ukrainians. "I was shocked how ordinary people opened up their arms and started helping Ukrainian people. At first, I thought this was great, people were being so generous, showing so much mercy and love and compassion but then I felt like I'm doing nothing here. At first, I sent money, but it still felt like I was doing nothing," remarked Kelly.
She reached out to area schools to see about organizing an effort to help the Ukrainian children. Kelly was disappointed by the response. One day she happened across a post about a woman offering a cooking class asa fundraising effort. What particularly caught Kelly's eye was that the Ukrainian woman was teaching American women how to make Ukrainian borscht. Her immediate reaction was, "Oh gosh, I can totally do that. Ukrainian borscht is like my second favorite soup."
Kelly reached out to Laura Wozniak from Queen of All Saints' Peace and Justice Committee about making "insane amounts of Ukrainian borscht'' for a fundraiser. She received a response that perogies would be a better idea than borscht. The idea evolved into a pierogi, Ukrainian borscht, sausage, and dessert fundraiser, which was held on April 9 and 10.
"I got scared wondering if we could handle all this," confessed Kelly, knowing the sale would be after each Mass at both Queen of All Saints and St. Mary of the Immaculate Conception in Michigan City. It took a small army of volunteers, "hours of production, doing tedious work" to make the ethnic foods. She said over 1,000 pierogies were made, 80 liters of meat and vegetarian borscht, sausage, and several varieties of desserts.
Over $10,000 was raised for the effort. The money will be split with a portion going to Dominican Friars, Sisters of Immaculate Conception, and Catholic Charities. Kelly said the Sisters of Immaculate Conception have been taking many women and children fleeing the war areas into their small convent in southwestern Ukraine. "They are great ladies with big hearts," she said. The sisters want to convert a retreat house into housing quarters for those fleeing the war.
"Some say that this enormous, nationwide outpouring of help, mercy, and generosity is outweighing the evil and atrocious events of the war. This is my reasoning for the fundraiser," said Kelly. "For many this wasn't a food sale, this was contributing to something very important, and the food was just a side thing. I've never seen something like this. People are so generous and kind. It was beautiful."
She added, "It is important to share and step in anywhere to help. Despite the chaos in my house for the week, it had a positive impact on our family, all those who participated and donated, and for those impacted by the money raised."