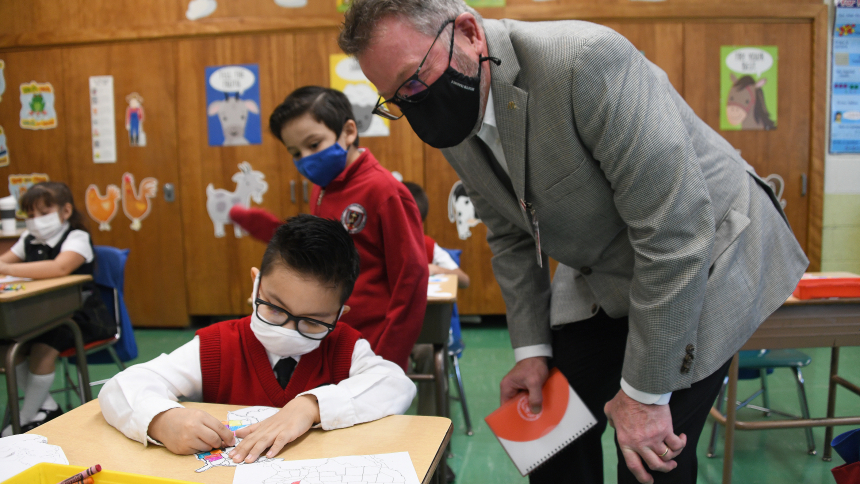 Diocesan schools reach higher with Big Shoulders lift
      "It Takes Big Shoulders to Carry a Child's Dreams" is the motto of Big Shoulders Fund, a nonprofit founded by business and civic leaders in 1986 to provide support to Catholic schools with demonstrated need in Chicago, and those shoulders grew even bigger two years ago when that support muscled its way into Northwest Indiana through a 10-year, $16 million commitment from the Bruce and Beth White Family Foundation to the 6,000 students in all 20 Diocese of Gary schools.
      Hope that children's dreams can come true was evident on Nov. 10 as community and educational leaders, supporters and volunteers toured three of the 10 diocesan schools where Big Shoulders Fund is making a difference through scholarship support, academic enrichment for students, operational improvements, leadership development and professional development for teachers.
      Recognizing the challenge of securing food during the COVID-19 pandemic last year, one of Big Shoulder Fund's first projects in NWI was to distribute 10,000 Father's Day meals to families from Whiting to Michigan City.
      Big Shoulders Fund is now working to enhance the quality of education in NWI Catholic schools by offering access to technology, curricular resources, and instructional and data coaching.
      In January, Big Shoulders Fund created the Choice Calculator website (nwichoicescholar.org), offering families a user-friendly way to determine eligibility for an Indiana Choice Scholarship and the amount available. This fall, overall enrollment in diocesan schools is up nine percent.
      Giselle Jones, director of Community Partnerships & Engagement for Big Shoulders Fund's Northwest Indiana Initiative, said the nonprofit has hosted Lend a Shoulder Day in Chicago for 22 years, and added a NWI component this year to spotlight "the great things happening in our Catholic schools."
      The success of the plan was evident in the rave reviews Lend A Shoulder Day garnered.
      "This was one of the best mornings I've had in a long time," said Doug Tougaw, interim Dean of Engineering at Valparaiso University, said of his visit to Aquinas School at St. Andrew in Merrillville. "I would love to have those students at my university (someday).
      "What a great school," Tougaw added. "I was so impressed with the teachers and the principal (Lisa Gutierrez) – I can tell how passionate they are and how much they care for their students."
      Kim Karlen, a Munster man who volunteers with Big Shoulders Fund's annual golf outing fundraiser, said he could see the Big Shoulders imprint on the classrooms he visited at St. Stanislaus School in East Chicago. "It amazes me how the kids are taught, the opportunities they have to use technology," Karlen said. "I watched fifth-grade students design, build and race miniature cars propelled by rubber bands." They built the cars out of various materials they were given, he added, impressing the retired engineer with their creativity.
      At Bishop Noll Institute in Hammond, guests Brenda Pena and Susana Batres, both admissions counselors at Indiana University Northwest in Gary, enjoyed going back to high school for the morning.
      "The biology class stood out to me," said Pena. "I saw students extract DNA from a strawberry and examine it, like in a forensics lab. They even showed us how to use the equipment."
      Batres "definitely liked the media class," she said. "They interviewed a guest and showed us how they edited the (digital footage). That was pretty advanced for high school."
      Working in college admissions, Batres said she appreciated "all the opportunities the students have to examine what they like and decide what they want to study in college. It's a good head start."
      Angelica Foy, first-year principal at St. Stanislaus, said as the first in her family to attend college, she appreciated that her mother "let me choose my own dream. That's what we want for all of our students. We want them to be prepared to make their own choices.
      "Our students face higher demands and have fewer resources than students in some other Northwest Indiana communities, but we tell them, 'We are supporting and preparing you to choose the life you want for yourself,'" Foy added. "We have educators who treat their career as a vocation, and (recognize) the many roadblocks our students confront. That is the choice Big Shoulders provides."
      Eighth-grader Maya Navarro, one of 10 student ambassadors that proudly showed St. Stanislaus visitors the computer lab and library as well as classrooms of students mapping the human body systems and coloring the state of Indiana on a series of maps to show its place not only in the United States, but North America and the world, provided guests with the best testimonial.
      "St. Stanislaus School is the place I've called home for the last nine years," she said. "I love this school and the people who love me enough to give me a good education and friends that will last a lifetime."
BY MARLENE A. ZLOZA
Northwest Indiana Catholic