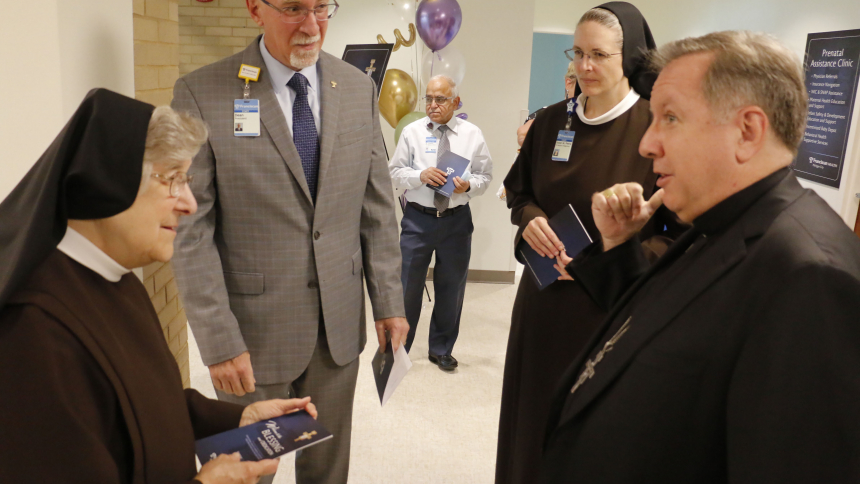 MICHIGAN CITY – Muffled sounds of jackhammers and excavators seemed to reinforce Dean Mazzoni's description of a "tale of two cities" on the Franciscan Health Michigan City Homer Street campus on July 22. As demolition crews continued to take down sections of the former St. Anthony Hospital, a group of nearly 75 gathered inside a renovated section of the building for a blessing and dedication by Bishop Robert J. McClory.
      The former hospital, located at 301 W. Homer St., was closed upon completion of the new hospital in 2019. Roughly two-thirds of the nearly 440,000 square feet complex is being demolished while Franciscan Health will use the remaining space of more than 100,000 square feet for inpatient behavioral health services, prenatal care, and an adult medical day care center.
      The repurposing project has a price tag of $20 million, with Tonn and Blank Construction providing management services.
      "It's been a long process and to see it come to fruition is very exciting. To have a facility that's going to be vibrant and thriving again in this neighborhood is exciting," said Mazzoni, president and CEO of Franciscan Health Michigan City.
      Sister Jane Marie Klein, chairwoman of the board of Franciscan Alliance, said she couldn't help but to reflect on Ecclesiastes. "A time to build and a time to tear down. We're doing both and we're doing both for a very good reason," she commented. "This is going to be a nice, vibrant, beautiful hospital. Smaller, but beautiful and doing a great job."
      Housed in the newly blessed facility will be what Mazzoni calls "mission services." A 14-bed inpatient Behavioral Medicine Unit will open later this fall for individuals who need a higher level of psychological care than what can be provided as an outpatient. Besides allowing for better behavioral care, the move will provide much needed in-patient space. "(The new hospital) is already two years old and is growing by leaps and bounds," said Mazzoni.
      Senior citizens in the community will be served by the PACE (Program of All-Inclusive Care for the Elderly) program that serves people 55 and over who need care during the day while a loved one taking care of them at home is typically at work. Trained professionals give needed care to the patients in a social setting, before they return home in the evening. Mazzoni said the program "fills a void that will ultimately allow residents to stay in their homes longer and not have to choose long-term or assisted living facilities. They can come see us during the day and return home at night."
      An expanded Prenatal Care Unit looks to address the need to assist expectant mothers at high risk and provide the care needed to increase their chances of giving birth to a healthy baby. "Indiana, and in particular LaPorte County, has a maternal infant mortality rate that's far too high. We now have a great opportunity to work with other partners to address critical needs in our community," stated Mazzoni.
      The new unit will complement WIC, the supplemental nutrition program for women, infants and children, which already leases space in the building. Physician offices and other services that extend the Franciscan Health mission and address community needs will round out the offerings in the remodeled property.
      "These are services the community needs. We do a community health needs assessment every three years and the same things keep coming back to us. These are services desperately needed," said Mazzoni.
      Mazzoni shared more good news by announcing the creation of 40-60 new jobs.
      According to Mazzoni, the Homer Street location has provided medical care to the community since 1904 and has a "long-standing history here. The fact that this facility and this property will continue to serve the community is very important to our mission. We're very pleased that tradition will go on."
      Franciscan Health "made a commitment to use the building or tear it down," he added, "and we found a compromise. We saw we had a need for some of the facilities but not all of it. So we repurposed the newer section (built in 2001) and demolished the rest, keeping the Franciscan mission alive on the property."
      Bishop Robert J. McClory went room to room blessing the revitalized facility. Addressing those attending the event, he said, "What a blessing that ministry will continue here with a particular focus on the needs of this community … acknowledging the needs of the community but at the same time extending that individually, one by one, to those of our community who need to experience that healing and with a look of love know that they can be made whole - body, mind and spirit."
      During his blessing, Bishop McClory said, "Jesus' healing mission went further than the caring of physical affliction. He touched people at the deepest level of their existence. He sought their physical, mental and spiritual healing. With this realization, let us ask for God's blessing on this facility and all who will work here and all who will come here seeking care."