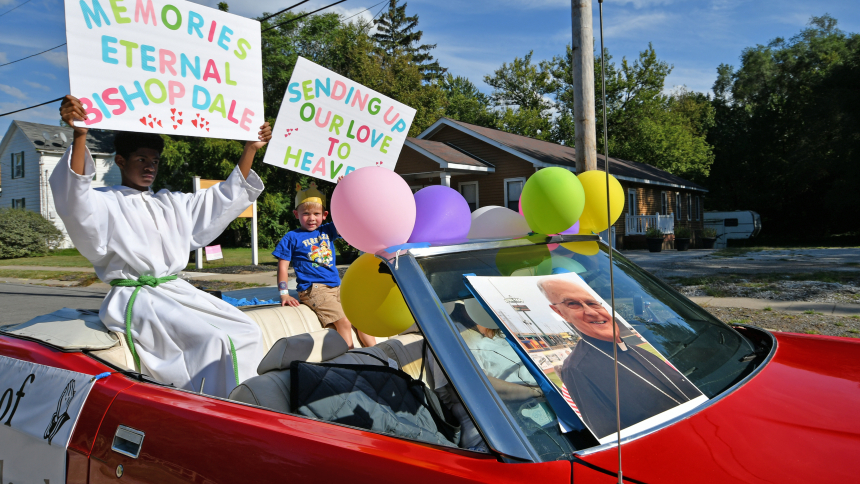 GARY – Festa Italiana drew hundreds to Miller to see the "Pasta Palooza" parade and to St. Mary of the Lake's Lessard Hall for Italian cuisine, festive music and neighborly fellowship on Sept. 10.
This year, the hugs that many greeted their fellow parishioners and area residents with and the playing of classic tunes such as "That's Amore" reminded many of the hospitality and love shown to all by the late Bishop Dale J. Melczek.
"You see these people here tonight? It's because of Bishop Dale and his legacy," said parishioner Jim Wiseman, who co-chairs the festival along with his wife Adina Wiseman. "In two weeks, he already has his legacy (established) and that is he built us to be one community."
The popular event was established by Bishop Melczek, parish council members and other volunteers who wished to help sustain the Miller church that was in peril of closing. Shortly after retiring from diocesan leadership, Bishop Melczek was appointed by then-Bishop of Gary Donald J. Hying as administrator of St. Mary of the Lake in 2015.
Meg Roman, a Miller resident, lined-up early to get a curbside view of the parade. Ahead of local marching bands, Scouts, a woman wearing a Mona Lisa framed costume and the Miller Beach Grape Stompers float drove a bright red classic convertible that carried two young friends of the dearly departed Bishop Melczek.
Roman grew up attending Marquette Park United Methodist Church. When she moved back to Miller, she said she was drawn to the vibrancy of St. Mary of the Lake as a focal point for that part of Gary.
"St. Mary of the Lake is not only a church, but also a community gathering space," Roman said. "Members have worked really hard to make it that way … My friends are there, and I love the (annual) ecumenical service there."
Holding signs reading "Memories eternal Bishop Dale" and "Sending up our love to heaven" Deshaun Harris, 14, and Jacob Nieman 4, marshaled the parade and set the tone for a tight-knit parish family mourning the loss of a leader while carrying on with great gusto.
Harris, an Andrean High School freshman and Nativity of Our Savior alumnus, has grown up with St. Mary of the Lake as his family's spiritual home. In recent years, he has been the lead altar server, eager to be present for his pastor, Bishop Melczek.
Describing an important grandfatherly figure in his life, the teen said he's been quite emotional since learning of Bishop Melczek's passing on Aug. 25 the next day at school.
"I'm really sad. I didn't know how to react to it at school, but when I got home, I reacted to it and cried for about 20 minutes," Harris said.
The Andrean student spoke of the power of his pastor's legacy. "The world now is really crazy. So, take the example of Bishop Dale's generosity and love for others – he loves everyone like Jesus did. He forgave everyone. I want people to take those (memories) with them," explained Harris.
Longtime parishioner Josie Werhowatz said her son Jacob Nieman was recently talking about the late Bishop Melczek, who baptized him and was always eager to see him with his family in church.
"Jacob was asking me, 'Will bishop still remember me from heaven?' and 'Can I still talk to him when he's in heaven?'" she said. "I told my son you can always talk to Bishop (Melczek)… just like you can always talk to God. He's still with us, and we keep the people that we love in our hearts forever."
Visitors arriving at Festa Italiana queued up at the ticket station and entrance to Lessard Hall, which was decorated with hanging plants like an Italian street scene. Volunteers staffed the kitchen and dining area, where a crowd reaching pre-pandemic levels gathered.
The food and fellowship fest is a key fundraiser for the parish, according to Wiseman. Years ago, Bishop Melczek and council members determined that the support and involvement of those outside the Catholic community was key to the viability of the church.
Those individuals showed up in force at Lessard Hall. People of many backgrounds and religious affiliation had their plates piled with pasta and bread. Others first perused silent auction items including Chicago sports tickets, historic photographs and household décor.
Conversing with viewers along the parade route and then with friends on the St. Mary campus, Tony Morales wore a Rocky Balboa tank top and boxing gloves. The Gary native said he was happy to rally the faithful, imitating Sylvester Stallone's triumphant training scenes from "Rocky."
"In this town you're just happy to have something, anything, and this is the biggest thing around," said Morales. "It's a good family atmosphere … if people aren't exposed to nice things, how do they know what nice things are?"
Also rallying residents, Gary Mayor Jerome Prince walked the parade route with family members dressed in campaign T-shirts. The city leader tipped his hat to Bishop Melczek's legacy.
"Bishop Dale's presence will be forever in the Miller community; he's still here," said Prince. "This entire parade this year is dedicated to Bishop Dale."
Married by Bishop Melczek in 2019, Mary and Andrew Jansma brought a pair of strollers for their two young children Mara, 2, and James, 10 months. Before entering the makeshift Roman villa, they stopped to share compliments about what continues to draw them to St. Mary of the Lake.
"Bishop Melczek seemed so young, very energetic," said Mary Jansma. "Our kids started warming up to Bishop and they would hug."
Andrew Jansma said being raised a Protestant and seeing Bishop Melczek was his first impression of a priest as a pastor. And it was a good one.
Mary Jansma said, "It's quite a legacy."