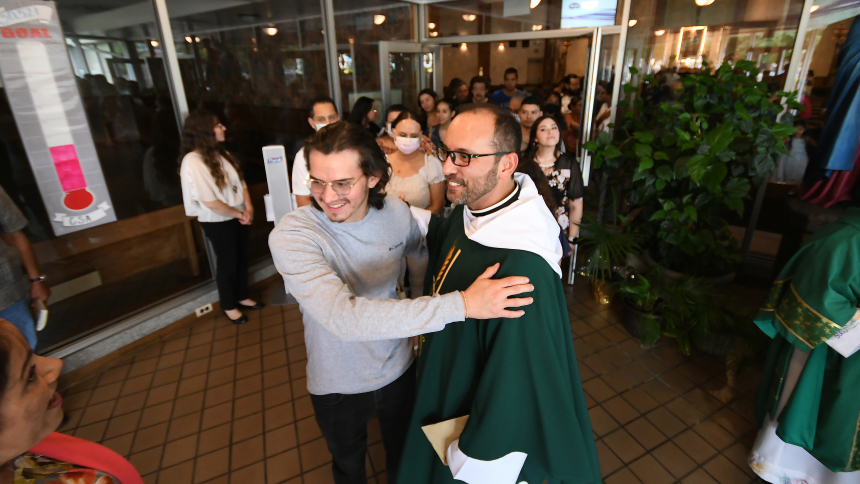 EAST CHICAGO – Our Lady of Guadalupe parishioners celebrated what they know to be a more permanent addition to the church family.
A capacity congregation applauded Bishop Robert J. McClory's official introduction of Association of the Immaculate Conception Father Diego Flores as pastor of Our Lady of Guadalupe church.
The designation by the bishop came after he communicated with AIC superiors, who agreed upon the permanent assignment. That brings to the faithful of Our Lady of Guadalupe and St. Patrick, also in East Chicago, a priest who will remain charged with the spiritual care of about 900 registered families and individuals.
In his homily, Bishop McClory unpacked the story of Martha and Mary (Lk 10:38-42) and related it to priestly service. He said Martha in her busyness "did not realize the most important thing that she could do is to be with Jesus and to listen to Jesus."
The bishop continued, "Father Diego, as your new pastor, is serving Jesus and he is serving all of you. He is a good servant; there are many good servants here serving in many ways."
Bishop McClory encouraged the faithful and their new pastor to remain close to the Lord and dependent on his gifts.    
"Jesus says, 'I'm here. I give you my life, be nourished by me,'" Bishop McClory told the East Chicago faithful. "And so, Father, make sure that Christ is always near to your heart, and you are always spending that time near to him."
In remarks in both English and Spanish, Father Flores, a native of Columbia, told those gathered that "my heart is filled with contentment and happiness."
As parishioners walked through the narthex, many signed a large greeting card, some writing, "Bienvenido, Padre Flores," or "Welcome, Father Flores," though the priest had been assisting with liturgies and functions of the parish since he arrived there in March.
Deacon Javier Patino, who assisted at Mass, said he believes parishioners will have more confidence in the future of their church knowing there is a permanent pastor present.
"Sometimes it's hard to find the words to describe, but it feels like a burden is (lifted) off my shoulders because we've always been anticipating a pastor, not one coming and one going," said Deacon Patino. "With Father Flores as our pastor, we have our feet on the ground again, and we're ready to keep going."
Father Flores grew up in Bogota, Columbia, was ordained in France and served for six years as a pastor in the Archdiocese of Miami. He greeted his new assignment in the Diocese of Gary with gratitude and pledged to help build upon the strengths of the vibrant parish with many Spanish speakers.
Father Flores, who turns 40 in September, also said he hopes to dedicate much energy to his ministry with the members of St. Patrick, where he will serve as an administrator. Utilizing his native tongue of Spanish and his maturing abilities in English, he wishes that the Anglo and Spanish communities continue to forge a strong relationship.
On the eve of the installation, Father Flores performed a concierto, singing and playing guitar, his instrument of choice since he was 15.
"I feel happy today because we are a beautiful family that I can see is uniting," Father Flores said on his installation day. "The people have waited for their new priest and pastor and now I'm here."
At the Mass, Bishop McClory imparted a blessing on members of the parish council and staff as they presented themselves to Father Flores. After the liturgy, pastoral council member and 30-year parishioner Olga Martinez said she was happy for her fellow parishioners who will again have a pastor based in the parish to direct the mission of the church.
"After our previous pastors Father Juan Gonzales and Father Carlos Martinez left, we were in limbo (since 2019) because we didn't have a permanent priest as far as making decisions," said Olga Martinez, parish council member, Rite of Christian Initiation of Adults instructor and a 30-year catechist. "Having a pastor coming in who's permanent is fantastic … and he sings."
Many of the parishioners who filled the marble-lined church continued through the gated property to a parking area where large tents were pitched to host a meal and fiesta. The faithful enjoyed chicken dinners, desserts and beverages. Some ventured onto the dance floor, where up-tempo Latin mixes filled the courtyard with sound.
Among those joining the Mass and reception were young adult parishioners. Four friends shared their hopefulness about the new leadership at OLG.
"We're certainly really excited that we have somebody in place who is ready to guide us as we learn more," said Jessley Padilla, 24.
Betty Sterling maintains a heavy heart after the April passing of her father, Abraham Rivera, a longtime parishioner. She said Father Flores has since inspired her faith and helped her understand that she carries her dad's memory with her.
"I wasn't sure where I was going after my parents passed away," Sterling said. "I had to do something for my life. I asked my brother (Ruben Rivera), 'Would it be okay if I came with you (to OLG),' and he said, 'Yeah.'"
She continued, "When I attended Mass, I felt that (my father) was talking to me saying, 'Hey I'm here,' through (Father Flores') sermon."
Concelebrating AIC priests congratulated Father Flores. Present were Father Luis Ferneidy Iral Cardona, pastor of St. Margaret Mary in Hammond, and Father Nestor Varon, pastor of St. Mary in East Chicago.
Graciela Cuadra, OLG parish secretary, said she is grateful for the AIC priests who have assisted. "We never missed a Mass and so we're thankful for that."
She continued, "We're very grateful that we have a priest, and his installation Mass was a reason to celebrate what we have here."