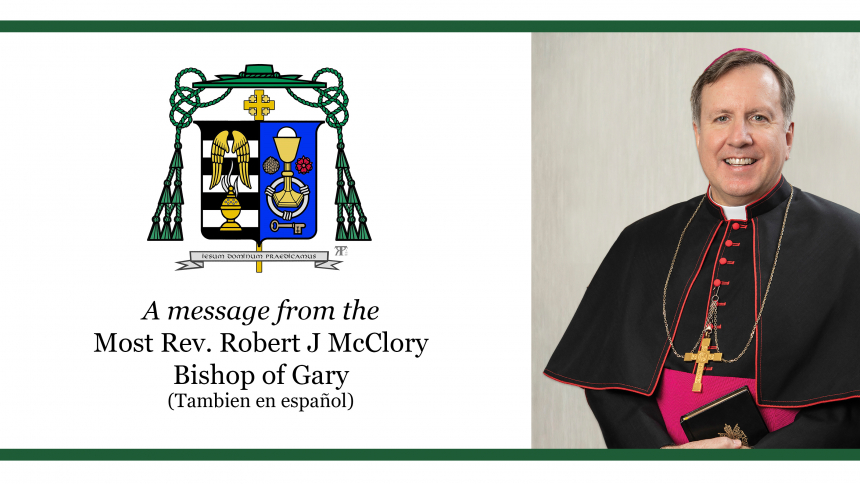 I write this column having recently returned from an eight-day silent retreat. That's correct. Eight days of silence. 
I have been participating in a three-year program of spiritual formation for bishops sponsored by the Institute for Priestly Formation. One component of the program is that each year we bishops enter into an eight-day silent retreat. The only speaking is during a one-hour daily meeting with my spiritual director and when we celebrate daily Mass together.
This silence, perhaps most importantly, includes being unplugged. No phone calls, email, texting, or news from the outside world. My key staff and family members were given a contact they could use for something urgent, but thankfully that was not necessary.
The purpose of such a retreat is to grow closer to God, to be renewed by Jesus and be refreshed by the Holy Spirit. On the one hand, I hunger for such an opportunity and relish this time of closeness to God. On the other hand, at the human level, it's not always easy to go silent. It's hard to be quiet, to dial down my busy life and shut out all the noise.
Of course, the blessing of drawing closer to God makes it all worthwhile. It's a time to savor His love for me. To listen. To present before Him the needs of our diocese and so many special intentions. To pray for the grace to be aware of His love more deeply and to surrender to Him. 
In my pastoral letter, "We Proclaim Jesus as Lord" [dcgary.org/office-bishop/pastoral-letter-missionary-discipleship], Principle Six states: "Our efforts as Missionary Disciples will require our own ongoing conversion." That applies to me and you and all of us. I can never think that I have "arrived" in my spiritual life. There is always more that God has in store. If our lives are centered on a relationship with Jesus – then we need to enter into that relationship more deeply. 
As I pointed out in the pastoral letter, Pope Francis reminds us that this kind of ongoing conversion will not be possible without time in the desert (i.e., time in prayer). As he puts it: "Without prolonged moments of adoration, of prayerful encounter with the word, of sincere conversation with the Lord, our work easily becomes meaningless; we lose energy as a result of weariness and difficulties, and our fervor dies out."
An extended silent retreat is beyond the reach of most of us and is a rather exceptional experience. However, spending at least some intentional time with the Lord on a daily basis should be a normal part of the Christian life. 
My "plus one" challenge for Lent is that we all inject at least some time every day for prayer. If you are already doing that, then consider adding another "plus one" – a little extra quiet time. As we allow the Lord to convert our hearts and minds, we become his vessels of love to others and our life becomes more complete. Eight days of silence might be a bit much – but a few moments every day will lead to our own ongoing conversion and help us to fulfill our role as missionary disciples.
 
Your servant,
Most Reverend Robert J. McClory
Bishop
Diocese of Gary
---
Ocho Días de Silencio… y "Conversión en Curso"
Escribo esta columna habiendo regresado recientemente de un retiro de silencio de ocho días. Así es. Ocho días de silencio.
He estado participando en un programa de tres años de formación espiritual para obispos, patrocinado por el Instituto por el Formación Sacerdotal. Uno de los componentes del programa es que cada año los obispos entramos en un retiro de silencio de ocho días. El único discurso es durante una reunión diaria de una hora con mi director espiritual y cuando celebramos juntos la Misa diaria.
Este silencio, quizás lo más importante, incluye estar desconectado. Sin llamadas telefónicas, correos electrónicos, mensajes de texto o noticias del mundo exterior. A mi personal clave y los miembros de mi familia se les dio un contacto que podían usar para algo urgente, pero afortunadamente no fue necesario.
El propósito de tal retiro es acercarnos más a Dios, ser renovados por Jesús y ser refrescados por el Espíritu Santo. Por un lado, estoy ansioso por tener esta oportunidad y disfruto este tiempo de cercanía con Dios. Por otro lado, a nivel humano, no siempre es fácil quedarse callado. Es difícil estar en silencio, bajar el ritmo de mi ajetreada vida y silenciar todo el ruido.
Por supuesto, la bendición de acercarse a Dios hace que todo valga la pena. Es un momento para saborear Su amor por mí. Escuchar. Presentar ante Él las necesidades de nuestra diócesis y tantas intenciones especiales. Orar por la gracia de ser más conscientes de Su amor y entregarse a Él.
En mi carta pastoral, "Proclamamos a Jesús como Señor" [dcgary.org/office-bishop/pastoral-letter-missionary-discipleship], el Sexto Principio establece: "Nuestros esfuerzos como discípulos misioneros requerirán nuestra propia conversión continua". Eso se aplica a mí, a ti ya todos nosotros. Nunca puedo pensar que he "llegado" a mi vida espiritual. Siempre hay más que Dios tiene guardado. Si nuestras vidas están centradas en una relación con Jesús, entonces necesitamos entrar en esa relación más profundamente.
Como señalé en la carta pastoral, el Papa Francisco nos recuerda que este tipo de conversión continua no será posible sin tiempo en el desierto (es decir, tiempo en oración). Como él lo dice: "Sin momentos prolongados de adoración, de encuentro en oración sobre la Palabra, de conversación sincera con el Señor, nuestro trabajo fácilmente pierde sentido; perdemos energía por el cansancio y las dificultades, y nuestro fervor se extingue".
Un retiro prolongado en silencio está más allá del alcance de la mayoría de nosotros y es una experiencia bastante excepcional. Sin embargo, pasar al menos algún tiempo intencional con el Señor diariamente debe ser una parte normal de la vida cristiana.
Mi desafío "más uno" para la Cuaresma es que todos dediquemos al menos algo de tiempo todos los días para la oración. Si ya lo está haciendo, considere agregar otro "más uno": un poco más de tiempo en silencio. A medida que permitimos que el Señor convierta nuestros corazones y mentes, nos convertimos en sus vasos de amor para los demás y nuestra vida se vuelve más completa. Ocho días de silencio pueden ser demasiado, pero unos momentos cada día nos llevarán a nuestra propia conversión continua y nos ayudarán a cumplir nuestro papel como discípulos misioneros.
Tu siervo,
Reverendísimo Robert J. McClory
Obispo
Diócesis de Gary