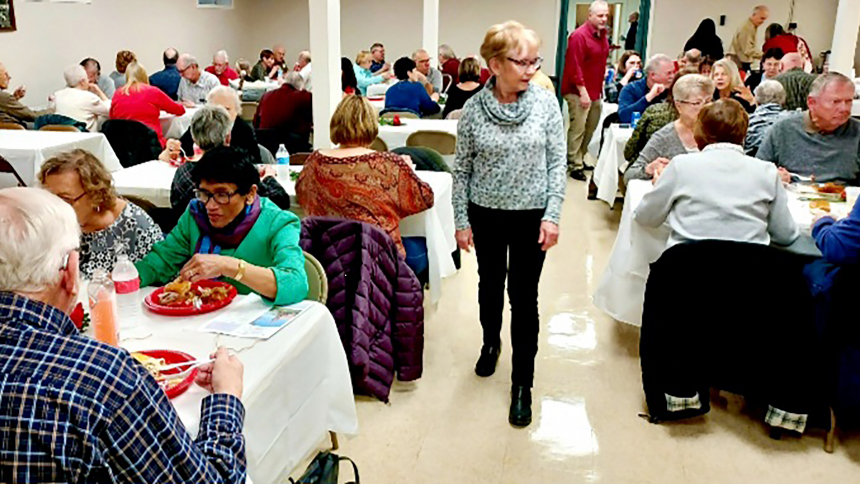 DYER – There is no better role model than St. Joseph, who faithfully followed the will of God and served as protector and provider for the Holy Family.
Not only the patron of the Universal Church, proclaimed by Pope Pius IX in 1870, he is also the patron saint of families, fathers, expectant mothers, travelers, immigrants, house sellers and buyers, craftsmen, engineers and working people, among others.
Having died in the "arms of Jesus and Mary," according to Catholic tradition, he is considered the model of the pious believer who receives grace at the moment of death – the patron of a happy death.
At St. Joseph parish, he is the guiding light, and for the second straight year, parishioners will celebrate their patron saint's feast day with a Mass and festive potluck dinner.
"We always celebrate a patron's feast day with Mass, and St. Joseph's feast day is actually a solemnity, one of the highest levels of feast day, but since it falls on a Sunday (March 19), we transfer the solemnity to the next day," explained Father Peter Muha, pastor at St. Joseph since last summer.
This year's St. Joseph Feast Day celebration will begin with a 5 p.m. Mass, followed by the potluck dinner in the parish Gathering Room. There is no cost to attend the dinner, but guests are asked to bring a dish to share.
"It was really a big success last year, with about 90 people attending the dinner after the 4 p.m. Saturday Mass," noted Kathleen Cusick, a member of the parish's Hospitality Ministry who is co-chairing the event for a second straight year with her husband, Noel Cusick. They have been St. Joseph parishioners since 1984.
"We really have a lot of new parishioners this year, some coming from Sauk Village, Ill., where two parishes were combined, and while we have been welcoming them at Masses, we hope some will join us on the feast day."
Noel Cusick said the committee "thought about moving the dinner to the gym, which is larger, but we like the intimate setting of the Gathering Room. Everyone mingled and some people from outside the parish came, too. There were no leftovers to take home last year."
"It is always great to have a party, and the dinner follows the Italian family tradition of St. Joseph's Table," said Father Muha, alluding to a bountiful altar of food that serves as an expression of gratitude for the simplest things in life, like a good meal. "So in that spirit, we'll be sharing a meal as a parish family."
New this year will be a Table of Honor featuring a statue of St. Joseph and red decorations reflecting the traditional color of the day, all coordinated by parishioner Mary Marszalak.
"I would encourage people to come to meet new members of our parish, who will have a great chance to meet all of us in a social atmosphere," said Noel Cusick. "It is only appropriate to recognize our patron saint, who had a lot to do with faith formation. There is not a lot known about him, but he was the head of the Holy Family and serves as a great example to us. Through the Consecration to St. Joseph (usually represented by a 33-day prayer vigil), we acknowledge that he is our spiritual father, and that we want to be like him."
Father Muha said that St. Joseph is important to the Catholic faith "because of the role God chose for him. He is the father of the Holy Family, protector of Mary and Jesus, and he placed his life at the service of God's plan. He was probably looking forward to marriage and raising a big family, but he obeyed the Lord and is a good example for us to do our part in building the Kingdom of God."
His homily on March 20 "will reflect on the life of St. Joseph," added Father Muha. "As patron of the Universal Church, St. Joseph has the role of inspiring everyone. He doesn't say anything in Scripture, but he is always listening to the message God sends him."