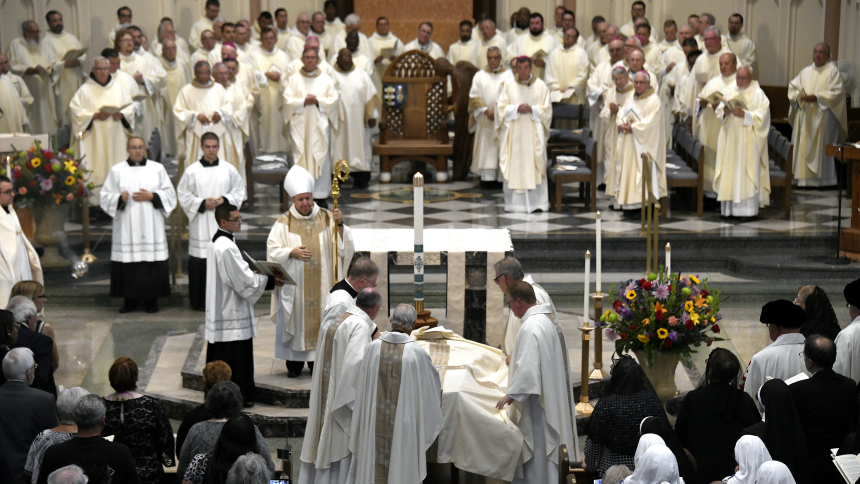 GARY – Described as "a tireless servant, a compassionate pastor, a hopeful leader and a dear brother and friend," the Most Reverend Dale J. Melczek, D.D., third bishop of the Diocese of Gary, was laid to rest in his beloved Cathedral of the Holy Angels on Aug. 29 after a Funeral Mass that honored his lifetime of dedication to the Catholic Church, including the past 30 years of service to the people of Northwest Indiana.
The services were attended by more than a dozen fellow bishops, more than 50 priests and three dozen deacons in addition to family members, classmates and friends from his native Michigan and members of the Knights of Columbus, Equestrian Order of the Holy Sepulchre, lay ministers, school officials, the mayor of the City of Gary and parishioners from throughout the diocese, especially St. Mary of the Lake in Gary, which he administered since shortly after his episcopal retirement in 2014.
"Knowledge is transformational, and Bishop Dale knew this as reflected by his episcopal motto, 'To Know Christ,'" said Archbishop Charles Thompson, D.D. in his homily. "Through knowing Christ, (Bishop Dale) came to know his own identity and desired to share that knowledge with all whom he met. It was the rarest of knowledge, sacred wisdom … prayer, scripture and service to others."
The head of the Archdiocese of Indianapolis heralded Bishop Melczek as "a good and faithful shepherd who dedicated his life in ministry to knowing Christ. May he now know the peace and joy of gazing on the face of God."
In his funeral remarks, Diocese of Gary Bishop Robert J. McClory read parts of a letter sent on behalf of His Holiness Pope Francis, said to be "saddened" to learn of the bishop's passing. The pope offered "prayerful condolences to your clergy and lay faithful" while "recalling many years of devoted episcopal service, zeal for education and a commitment to fostering a lay apostolate" by Bishop Melczek.
"He imparts his blessing as a pledge of peace," added Bishop McClory of the papal missive.
Both natives of Detroit, Bishop McClory, the fifth bishop of Gary, recalled his first memory of the diocese's third prelate as "the running priest" who lived in the same neighborhood as the McClory family. Not only did Bishop Melczek keep himself physically fit throughout his life, "He (also) kept himself spiritually fit," said Bishop McClory, by keeping his focus on Christ.
"My heart is full of gratitude for the life that he lived and his dedication to the Catholic Church," said Bishop McClory on the afternoon of Aug. 28 after the Rite of Reception marked the arrival of Bishop Melczek's body to the cathedral. "It was beautiful and consoling … a time of prayer for his soul and reflections on his goodness.
"He had a prayerful demeanor," Bishop McClory added. "I would see him praying in front of the Blessed Sacrament in our chapel at the Pastoral Center, and it inspired me."
Sunday also included from the Office of the Dead (a prayer cycle of the Liturgy of the Hours said for the repose of the soul of a deceased individual), which included Evening Prayer, giving thanks for the day,  presided over by Father Martin Dobrzynski, pastor of St. Michael the Archangel in Schererville and diocesan director of the Office of Worship and the Catechumenate, and Night Prayer, expressing trust in the Lord, presided over by Father Jon Plavcan, pastor of St. Patrick in Chesterton and vicar of clergy for the Diocese of Gary.
At the Evening Prayer service, the 12 seminarians serving throughout the two days as altar servers were joined by special cross bearer, Deshaun Harris, 14, a freshman at Andrean High School and a parishioner at St. Mary of the Lake. "I served (Mass) all the time," Harris said of his connection to Bishop Melczek. "He was everything to me, so generous, very protective. He gave his all."
Harris said, "It meant a lot" to be asked to participate in the Evening Prayer, "because Bishop Dale helped our church so much and helped out all the (high) schools I was choosing from. When I shadowed (a student for a day) at Andrean, I felt like I belonged there, and I want to join the student ambassadors because I want to give others that same experience."
As mourners approached his casket to pay their respects and say a prayer throughout Sunday afternoon, they admired not only the bishop's mitre, but the medallions that signified his membership in the Equestrian Order of the Holy Sepulchre, and the episcopal ring that was a gift from his father, a jeweler, and contains a ruby, his mother's birthstone.
The bishop emeritus wore an alb made by a group of religious sisters that came to Detroit from the Philippines, and a white vestment that he purchased for a past anniversary of his priestly ordination. "He always loved and cherished that alb," said Father Plavcan, who called Bishop Melczek "a great shepherd to me."
Wrapped around the bishop' hands was "his personal rosary that he prayed every day, saying one decade in Polish to reflect his heritage. He prayed for the priesthood and for (religious) vocations," noted Father Plavcan. "We also put in his breviary, the Litany of Hours that he prayed every single day. It was very important to him, and when he had his visual deficiency near the end, he struggled trying to read it. It contains some special holy cards from bishops and priests that he had known."
When his personal items were removed prior to the closing of the casket at his funeral the next day, it was noticeable that the attendant had a difficult time removing the rosary entwined in the bishop emeritus' folded hands, as if he didn't want to let go.
"He was so humble, and such a good shepherd," said Lourdes Martinez, of Portage, a parishioner at St. Francis Xavier in Lake Station. "I remember the first time I attended a Mass celebrated by Bishop Melczek that I felt something special. I felt that I was in the presence of a holy person. It was a feeling of joy."
Gary Mayor Jerome Prince attended the funeral and said afterwards that the death of Bishop Melczek represents "a loss not only to his family and the diocese, but to the entire City of Gary. He was committed to his faith and served with the excellence that we came to expect. Personally, I'm going to miss him as a friend."
The Funeral Liturgy on Aug. 29 was preceded by Morning Prayer. celebrating the light of a new day and recalling the resurrection of the Lord. It was presided over by Father Kevin Huber, pastor of St. Mary in Crown Point and chancellor for the Diocese of Gary.
The Funeral Liturgy gives praise and thanks to God for Christ's victory over sin and death, to commend the deceased to God's tender mercy and compassion, and to seek strength in the proclamation of the Paschal Mystery.
"We entrust you to the care of the Lord," said Bishop McClory following the committal service for Bishop Melczek in the east transept of the cathedral where his body, resting in a simple wooden casket, was entombed in a black granite sepulchre next to that of Gary's first bishop, the Very Rev. Andrew G. Grutka, D.D., who died in 1993.
"Well done, good and faithful servant. (Matt 25:23)," added Bishop McClory.