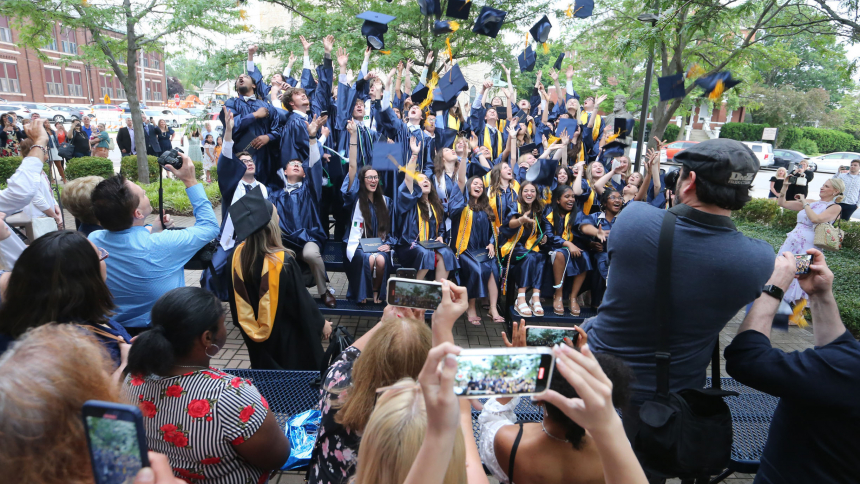 At the intersection of personal memories and the uncertain road that stretches out before them, graduates of Andrean High School, Bishop Noll Institute and Marquette Catholic High School took stock of their faith-based, holistic education.
Graduation events kicked off for students of each diocesan high school with a Baccalaureate Mass. Gathered for a familiar breaking of the bread, the days' prayer intentions called on God's grace to lead the new alumni into "new adventures."
"We should always thank God for the blessings we have received," said presider Bishop Robert J. McClory in his homily on June 2. "We also say, 'Lord whatever I do I want to give glory to you …  trust in you.' That's the best way to commence your post-graduation lives."
After the evening Mass at Our Lady of Consolation in Merrillville, soon-to-be Andrean graduates gathered with their families and friends. They hugged, laughed and shared stories as Principal Jaycob Knazur and faculty visited among the teens.
Derrick Mitchell of Merrillville said, "I cherish the education I received at Andrean, coming from public schools. I really developed myself and turned over a new leaf … where I'm from there were a lot of distractions. Coming here really was a new life for me. I'm grateful for it."
Mitchell is looking forward to attending Tennessee State University in Nashville this fall.
On June 3 the Bishop Noll family congregated at the Cathedral of the Holy Angels in Gary. Among the graduating seniors was Romeo Casiano, who reflected on his life-changing time at BNI.
"Getting closer to my class it really made me embrace how important it is to talk to people you don't know, to step out of your comfort zone," Casiano said.
"My faith has grown, especially after Kairos (Catholic spiritual retreat)," added Casiano, who was a retreat leader. "It's a big eye-opener … They taught me how to treat others with respect."
Casiano said he is excited about the opportunity to attend Ball State University in Muncie, where he will study business and marketing.
Speaking to students from the cathedral ambo, Principal Lorenza Jara Pastrick asked them to move aside their regalia cords and stoles and place their hands on their chest to feel their heart beating. She explained that "Life is precious," and "Living your life for our Lord" is of prime importance.
"The subject of the heart just spoke to me as my dad (survived) a heart attack. In our life, the beginning and the end is always a heartbeat," Jara Pastrick said.
At the BNI fieldhouse for commencement, Class of 1977 member Mary Puntillo spoke of her family connections and praised the preparation she received from the school.
"I grew up not far from here. We went to St. Stan's and all four of my other siblings attended Bishop Noll. My dad was here when it was Catholic Central," said the longtime nurse in the neonatal intensive care unit at Community Hospital in Munster. "I'm so incredibly honored to be here today to be a part of this celebration. BNI was part of my life from the beginning."
In their speeches, student leaders presented humorous anecdotes, well wishes and thanked their parents for their support.
Jackie Garcia is a first-generation high school graduate and, as such, wore a stole indicating that fact and displaying an image of Our Lady of Guadalupe, an ode to her Hispanic heritage
"I loved the Bishop Noll experience ­– the people I met (and) the memories I made helped(to) build my mind, body and soul," said Garcia, who plans to attend Purdue Northwest in Hammond. "Bishop Noll is like a second home and I'm definitely going to miss it … but I'm going to take every opportunity to do the best I can do and put God first."
Marquette Catholic High School classmates received their diplomas and officially became Marquette alumni on June 6. Casey Martin, in his first full year as principal in Michigan City, commended the 57 graduates for their accomplishments despite the pandemic. "It's a credit to this group of kids. They are something special. They battled through four years unlike any other four years kids in America have gone through in decades. I'm so proud of them," he said.
"It's all pretty surreal. I can't believe it's happening," remarked Leah Lawson, sporting a radiant grin.
Mia Wozniak took a moment to wipe the tears from her eyes as she gazed upon all the friends she made while at Marquette. The tears weren't only for her friends, but also the teachers and staff. She feels the teachers prepared her for the real world by "setting the bar high. I just love all of them."
Besides setting high academic standards, Maria Wadle said her time at Marquette deepened her faith.  She added that navigating the challenges of the pandemic helped her become more flexible and adaptive, much to the credit of Marquette.
For Will Crane, Marquette has been a second home to him for nearly 18 years. He's been active in the school's theater productions from a young age as his mom, Amy, is the school's speech and theater teacher. "I've been here my entire life," said Crane. "The chapter is finally done. I'm a little bummed and super excited to start a new one."
A handful of international students also received diplomas, including Virginia Tocchini, from Italy. Tocchini said coming to Marquette two years ago opened a door to international friendships. She described her American and international friends, experiencing new foods, festivals and learning about their lifestyles. "Teenagers are all the same all around the world. We have the same problems, same worries, school, activities… it's all the same, just different languages," said Tocchini.
Student body president Bob Johnson credits Marquette for helping him break out of his shell and to show him the person he is. "Four years ago, I walked in here not expecting much… It's (been) such a great experience and I'm grateful for the opportunities God has given us."
Bishop McClory, who was also the celebrant for the Michigan City high school's Baccalaureate Mass, told the students the day is a "two-fold reflection." He explained in one sense it is to look back with gratitude and to say thank you for the many gifts they received from their time at Marquette. He went on to tell them to look to the future and to rely on God and the Holy Spirit: "Trust in God always and be His vessels of mercy."