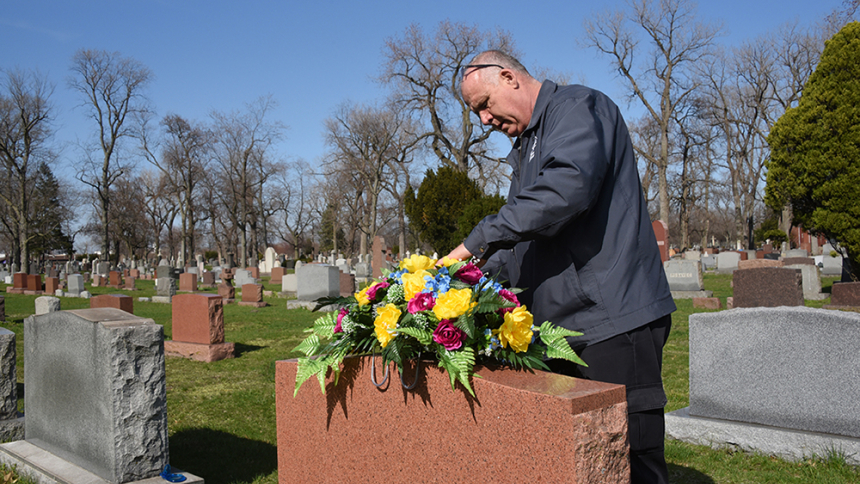 HAMMOND – Beautification and beneficence go hand in hand at Gary Diocesan Cemeteries, especially as the organization cultivates another season of the Spring Flower Decoration Program.
The initiative, which allows loved ones of the deceased interred at St. John – St. Joseph Cemetery to purchase colorful, sturdy artificial floral arrangements for gravestones and markers, is a charitable effort that has benefited a local charity for more than 16 years.
In about 2005, Chief Operations Officer Mike Welsh began to formulate ways to give more options to clients, especially those looking to enhance a memorial marker space.
"This is a Catholic cemetery, let's help these people," said Welsh, the former Midwest director of the Catholic Cemetery Conference. "This flower program is another way to help people beautify the graves … and to help people through the grieving process."
He continued, "It's a little bit of work but the (benefactor) Carmelite Home/Holy Innocents Center is wonderful. We couldn't put the money in a better place."
Overseeing a crew that tends to St. John-St. Joseph Cemetery in Hammond, St. Stanislaus Cemetery in Michigan City and Ss. Peter & Paul Cemetery in Merrillville, Welsh gets plenty of feedback as to those issues affecting the maintenance of the combined 75 acres of property.
Lately he has taken to surveying the property, driving on the service road and getting out of his truck. Plenty of downed limbs – and sometimes entire trees – are cleaned up before regular mowing of the lawns begins. People start to visit the cemetery as the weather moderates.
Welsh offers printed guides and personal advice to those decorating gravesites: "Quality, not quantity makes for a beautiful cemetery."
"March 1st to 31st is our clean-up time, then people come out and place their Easter flowers," Welsh explained. "Then comes Spring, which we consider May 1st, when we start (in earnest) putting all the flowers out."
Though cemetery maintenance staff members are respectful to people's decorations, those not in compliance with the guidelines, they warn, are the ones that can pose a hazard to those visiting the grounds. Welsh said well-meaning people sometimes place statuary, stones or fencing that can easily catch on mowing equipment and be hurled about the property.
To give patrons safer options, Welsh partnered with a Crown Point-based firm that arranges bold, colorful and weather-resistant arrangements. Clients can choose from among patriotic and seasonal floral mixes that can be mounted in the ground in durable containers.
Another option for cemetery patrons are the floral "saddles" which hug the top of a monument. These wide arrangements are mounted with a special bracket that is coated with plastic to prevent damage to granite.
The artificial floral decorations are priced between $35-$60, with the eternal candle memorial set at $140. Welsh said in inflationary times, he has tried to keep the prices of the items low, checking with his supplier for the best values.
Gary Diocesan Cemeteries administrative assistant Herbert Cruz produces a map of the gravesites where flowers will be placed.
"Many times, people call and say they don't know the section, block, lot and grave information, but we just tell them don't worry about filling out that part of the (order form); I tell them when we get the order form, we'll fill in that," Cruz explained.
On the calendar of the Spring Flower Decoration Program, the most exciting time for Welsh is the same day that brings joy and gratitude to Sister Maria Giuseppe Moxley, Carmelite superior of the East Chicago ministry.
Each year by July, Welsh presents Sister Giuseppe and the Carmelite sisters gathered at the Holy Innocents Center with a check from the cemetery decorations sales. According to Cruz, this generally ranges from between $4,000 to $5000.
"It's just so touching and so beautiful," said Sister Giuseppe. "Mike (Welsh) is so dedicated and concerned, he makes a personal visit, and presents the check – he doesn't just send it in the mail."
Sister Giuseppe said the cemetery decoration program allows those memorializing the loss of a loved one a beautiful way to ensure their contribution will be fully utilized by the emergency residential center for infants, children and teens.
"It's such a unique donation because it is something that (the cemetery crew) works on for a long time," Sister Giuseppe added. "The people that spend the money to buy the (floral arrangements) can be assured that the Carmelite Home reaps the benefits from that."
Sister Giuseppe said the four other sisters and staff members at the Holy Innocents Center are appreciative of the similar donation GDC makes before Christmas when they conduct a cemetery wreath sales program.
In a letter addressed to friends of St. John – St. Joseph Catholic Cemetery, GDC Director Father Michael Yadron, pastor of St. Thomas More in Munster, also thanked program participants, writing "You will not only be able to beautify the graves of your loved ones, but also assist the cemetery in a very special way … we sincerely thank you for your continued support."
A floral arrangement product sample is displayed in the SJSJ cemetery office at 1547 167th Street, Hammond. For more information, interested patrons can visit the office on Mondays through Fridays from 8 a.m. to 4 p.m. and on Saturdays from 8 a.m. to noon. Order forms are available, and cash, cheques and money order payments are accepted at the office. For more information, call 219-844-9475.