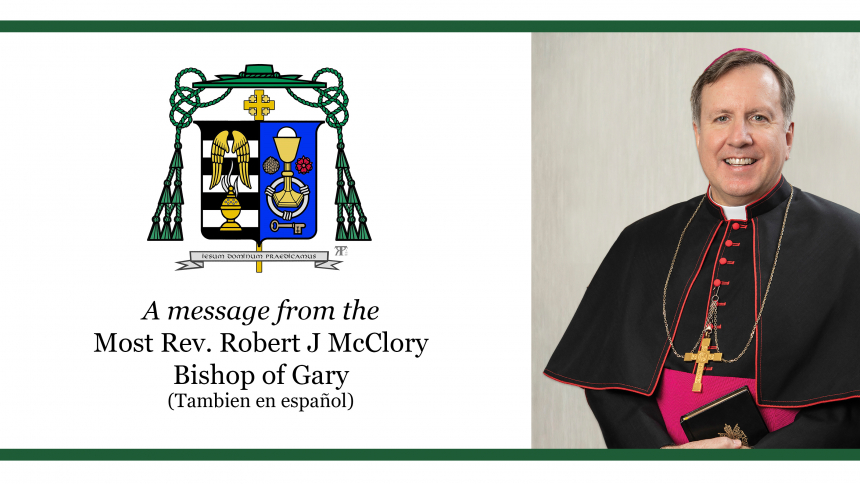 "What are you thankful for?" This is a question that we have been asking readers of the Northwest Indiana Catholic in recent weeks. We see in our Thanksgiving edition and on our diocesan Facebook page a litany of thanks. Please take time to read through some of these statements of thanksgiving. You'll find yourself encouraged and inspired.
Of course, the season of Thanksgiving is ideally suited to doing exactly as the psalmist states: "I will give thanks to you, Lord, with all my heart; I will tell of all your wonderful deeds." (Ps 9).
In my own family, we take time at Thanksgiving dinner to go around the table and express something for which we are thankful. The list of things varies a bit from year to year:  graduations, new jobs, recovery of health, and so on. It seems to me that as the years progress, our Thanksgiving has mostly been for people in our lives, family and friends through whom God has blessed us richly.
It's quite healthy for our spiritual lives, and for our emotional well-being, to simply call to mind all those things for which we are thankful. Doing this pulls us out of focusing narrowly on our problems and frustrations. Instead, we focus on the things that are above, the things that give life, the beauty that God bestows in our midst.
St. Paul gives this encouragement to the Philippians and to all of us: "Have no anxiety at all, but in everything, by prayer and petition, with thanksgiving, make your requests known to God. Then the peace of God that surpasses all understanding will guard your hearts and minds in Christ Jesus. Finally, brothers and sisters, whatever is true, whatever is honorable, whatever is just, whatever is pure, whatever is lovely, whatever is gracious, if there is any excellence and if there is anything worthy of praise, think about these things." (Phil 4: 6-8)
Here are just a few of the things for which I am thankful: I am thankful that God has placed me here in Northwest Indiana to serve as your bishop. I am grateful for the beautiful diversity of our Diocese of Gary. The recent census shows that in these four counties (Lake, Porter, LaPorte, and Starke) we have 807,703 souls. Not all of them are Catholic, but all of them are part of our diocesan family in some way. I am thankful for the mosaic of different cultural and ethnic backgrounds that comprise our local church.
I am thankful that, while we are not through COVID-19 yet, we have been able to reengage so many of our ministries, worship and service throughout our parishes and Catholic institutions. I'm grateful that I have family and friends and wonderful clergy and lay faithful in our diocese and beyond who pray for me, encourage me, and give me their love and support. We are blessed with so many good people with hearts of service.
Most of all, I am ever so thankful that God sent his son Jesus to love us and save us. I am grateful that we have a merciful God who wants to pour his blessings upon us. I am grateful that in Jesus we have hope and healing.
Take the time in your own heart and around your Thanksgiving table to share with the Lord and your family and friends all those things for which you give thanks. Living with an "attitude of gratitude" is part of what it means to be a happy, healthy, and holy Catholic Christian!
May God bless you and your loved ones and all of us here in Northwest Indiana with a beautiful Thanksgiving that will continue all year round.
Your servant,
The Most Reverend Robert J. McClory
Bishop
Diocese of Gary