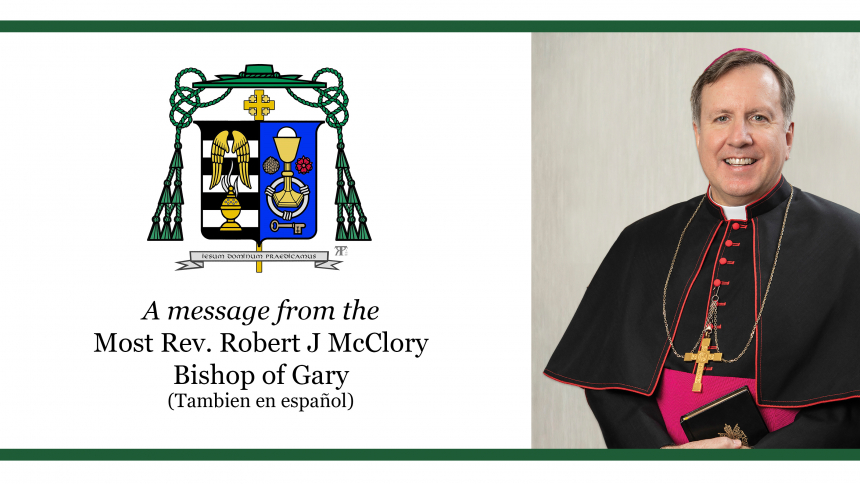 As I write this column, the specter of COVID once again hovers over our lives and relationships. The latest variant is Omicron, the fifteenth letter of 24 in the Greek alphabet. It's a word that few of us knew a few weeks ago. As we work through the Greek alphabet used to name each variant, we may wind up at the end-Omega. Let's pray we don't need to start again with Alpha.
Even by the time this is published, some epidemiologists posit that the spike (or is it a wave?) will subside. Or perhaps not. None of us can entirely predict with 100% accuracy. What we do know is that as we approach two years into the pandemic, one of the effects is clear: we are more fragmented as a society and fragmented as a Church. The normal and natural gathering spaces seem to be slipping into disuse and our natural connections have weakened.
To acknowledge this fragmentation should motivate us to respond by being even more intentional about re-connecting, keeping our spiritual family together and being a force for unity in our community. Our primary expression of our unity is to come together at Mass for Holy Communion. That's our normal point of connection.
While there are no virtual sacraments, we now have a multitude of means of communication to stay connected, to feel a bit closer, less isolated. At the diocesan level, this issue of the NWIC is being sent to a wide range of Catholics in Northwest Indiana. It's a simple, yet meaningful gesture for this issue to help us stay connected, sharing some good news and The Good News.
The special magazine insert on Catholic schools makes this especially appropriate to make sure we are all aware of the wonderful impact of our schools and the new opportunities presented by the Indiana Choice Scholarship program. I encourage you to read the insert and share it with a family you think might consider a Catholic school education for their children.
For those of you who are not regular subscribers to our Northwest Indiana Catholic, please consider becoming a subscriber. The NWIC is an award-winning publication and a great way to stay connected to all that is happening in our Catholic community. We also have ways to stay connected through digital resources including our diocesan website (dioceseofgary.org), YouTube channel (youtube.com) and social media (facebook.com/garydiocese). As we continue to look for ways to enhance our communication channels, our newspaper remains a reliable means to help keep our faith family together.
As Catholic Christians, we have the best message to give a fragmented world. Now more than ever people need to experience the love of Jesus more deeply in their lives. To know there is a source of hope and joy that does not change with the latest personal setback, COVID variant or troubling headline. It's been another year of twists and turns. The reality is that we will not return to what was but need to prepare for what will be. Let's stay connected and have confidence because "Jesus Christ is the same yesterday, today, and forever" (Heb 13:8). Jesus, I trust in you!
Please note, if you are at risk or have compromised health, the obligation to attend Mass is dispensed. I encourage you to contact your pastor if you have other concerns to see if a further dispensation might be warranted.
---
Mientras escribo esta columna, el espectro de COVID una vez más se cierne sobre nuestras vidas y relaciones. La última variante es Omicron, la decimoquinta letra de 24 en el alfabeto griego. Es una palabra que pocos de nosotros conocíamos hace unas semanas. A medida que trabajamos con el alfabeto griego utilizado para nombrar cada variante, podemos terminar en el final de Omega. Oremos para que no tengamos que empezar de nuevo con Alpha.
Incluso cuando esto se publique, algunos epidemiólogos postulan que el pico (¿o es una ola?) disminuirá. O tal vez no. Ninguno de nosotros puede predecir completamente con 100% de precisión. Lo que sí sabemos es que a medida que nos acercamos a los dos años de la pandemia, uno de los efectos es claro: estamos más fragmentados como sociedad y fragmentados como Iglesia. Los espacios de reunión normales y naturales parecen estar cayendo y nuestras conexiones naturales se han debilitado.
Reconocer esta fragmentación debería motivarnos a responder siendo aún más intencionales para reconectarnos, mantener unida a nuestra familia espiritual y ser una fuerza de unidad en nuestra comunidad. Nuestra principal expresión de nuestra unidad es reunirnos en la Misa para la Sagrada Comunión. Ese es nuestro punto normal de conexión.
Si bien no hay sacramentos virtuales, ahora tenemos una multitud de medios de comunicación para estar conectados, para sentirnos un poco más cerca, menos aislados. A nivel diocesano, esta edición del NWIC se envía a una amplia gama de católicos en el noroeste de Indiana. Es un gesto simple pero significativo para esta edición que nos ayuda a mantenernos conectados, compartiendo buenas noticias y Las Buenas Nuevas.
El inserto especial de la revista sobre las escuelas católicas lo hace especialmente apropiado para asegurarnos de que todos estemos conscientes del maravilloso impacto de nuestras escuelas y las nuevas oportunidades que presenta el programa de becas Indiana Choice. Lo animo a leer el inserto y compartirlo con una familia que crea que podría considerar una educación en una escuela católica para sus hijos.
Para aquellos de ustedes que no son suscriptores regulares de nuestro Northwest Indiana Catholic, por favor consideren convertirse en suscriptores. El NWIC es una publicación galardonada y una excelente manera de mantenerse conectado con todo lo que sucede en nuestra comunidad católica. También tenemos formas de mantenernos conectados a través de recursos digitales, incluido nuestro sitio web diocesano (dioceseofgary.org), el canal de YouTube (youtube.com) y las redes sociales (facebook.com/garydiocese). A medida que continuamos buscando formas de mejorar nuestros canales de comunicación, nuestro periódico sigue siendo un medio confiable para ayudar a mantener unida a nuestra familia de fe.
Como cristianos católicos, tenemos el mejor mensaje para dar a un mundo fragmentado. Ahora más que nunca las personas necesitan experimentar el amor de Jesús más profundamente en sus vidas. Saber que hay una fuente de esperanza y alegría que no cambia con el último revés personal, variante del COVID o titular inquietante. Ha sido otro año de giros y vueltas. La realidad es que no volveremos a lo que fue sino que debemos prepararnos para lo que será. Mantengámonos conectados y tengamos confianza porque "Jesucristo es el mismo ayer, hoy y por los siglos" (Hebreos 13:8). ¡Jesús, en ti confío!
Your servant,
The Most Reverend Robert J. McClory
Bishop
Diocese of Gary