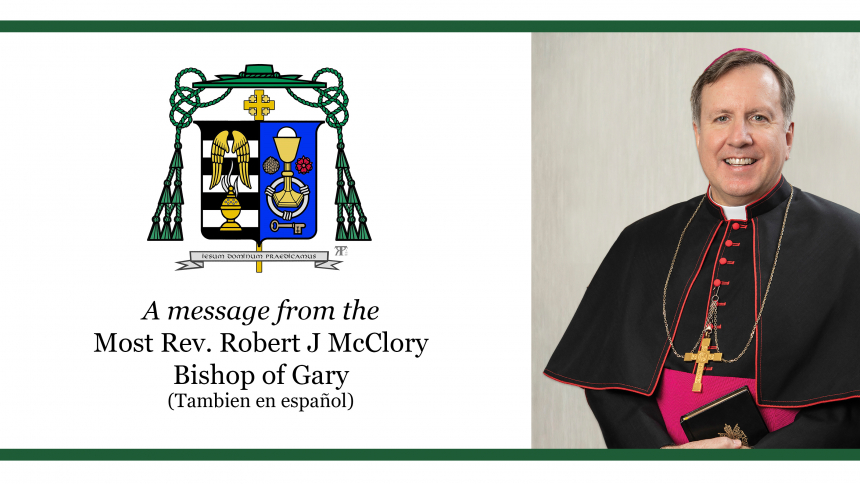 Dear brothers and sisters in Christ:
The word "synod" means "walking with." It describes our way of living life as Catholics. We walk together in our service of the Lord and our neighbor. This term also applies to a more formal process of listening and reflecting on our life as a local church. We have experienced two such synods recently, in 2017 and 2022.
We concluded our diocesan portion of Synod 2022 in February with a Mass, presentation and reception at the Cathedral of the Holy Angels. At that time I issued my pastoral letter, "We Proclaim Jesus as Lord."   [dcgary.org or dioceseofgary.org/office-bishop/pastoral-letter-missionary-discipleship]. Pastors are now engaged in a period of forming parish leaders and reflecting on some key questions concerning missionary discipleship. 
This will lead to parish plans for the next 2-3 years that illustrate how parishes may become more effective in growing as disciples and missionaries sharing the Good News of Jesus. Many of our parishes are experiencing this as a time for focus and renewal as we work our way through what is hopefully now an "endemic" rather than a "pandemic."
I write today to invite you to participate in a quite literal "walking with" Jesus event. Mark your calendars now for a Diocesan Eucharistic Procession to be held on Sunday, June 19 at 2 pm. The procession will begin with a time of prayer and adoration at Our Lady of Grace Catholic Church in Highland and conclude at St. James the Less Catholic Church in Highland with benediction, reposition, and a picnic hosted by the Knights of Columbus. The distance of our procession is about 1.5 miles. June 19 is the Solemnity of Corpus Christi and also the observance of Fathers' Day. 
The purpose of the Eucharistic procession is to raise awareness of the Real Presence of Jesus in the Eucharist and to give public witness of veneration toward the Most Holy Eucharist. As I shared at our synod closing in February, the bishops of the United States have called for a National Eucharistic Revival over the next three years, culminating in a national Eucharistic Congress on July 17-21, 2024, in Indianapolis.
The Eucharistic Revival is a movement that sustains and strengthens our Synod priorities to be disciples and to be missionaries. The Eucharist is the "source and summit" of our faith and our procession will be a beautiful way to celebrate this great gift and together "walk with" Jesus.
Over the past year, I have participated in two public processions in the City of Gary, for Our Lady of Guadalupe and Palm Sunday. I have experienced these as true moments of solidarity with each other as we are literally on the move. Such processions also remind us that the life of the church is drawn outward – to bring our good news and ministry to the world. I look forward to our walking together with Jesus in Highland on June 19, the Solemnity of Corpus Christi.
Have a Blessed and Joy-filled Easter Season!
Your servant,
Most Reverend Robert J. McClory
Bishop
Diocese of Gary
__________________________________________________________________________________________________________
"Caminando con" Jesús: 19 de junio Procesión Eucarística
Queridos hermanos y hermanas en Cristo:
La palabra "sínodo" significa "caminar con". Describe nuestro modo de vivir la vida como católicos. Caminamos juntos en nuestro servicio al Señor y al prójimo. Este término también se aplica a un proceso más formal de escucha y reflexión sobre nuestra vida como Iglesia local. Hemos vivido dos sínodos de este tipo recientemente, en 2017 y 2022.
Concluimos nuestra parte diocesana del Sínodo 2022 en febrero con una misa, presentación y recepción en la Catedral de los Santos Ángeles. En ese momento publiqué mi carta pastoral, "Proclamamos a Jesús como Señor".   [dcgary.org o dioceseofgary.org/office-bishop/pastoral-letter-missionary-discipleship]. Los párrocos están ahora inmersos en un período de formación de líderes parroquiales y de reflexión sobre algunas cuestiones clave relativas al discipulado misionero. 
Esto conducirá a planes parroquiales para los próximos 2-3 años que ilustran cómo las parroquias pueden ser más eficaces en el crecimiento como discípulos y misioneros compartiendo la Buena Nueva de Jesús. Muchas de nuestras parroquias están experimentando esto como un tiempo para centrarse y renovarse a medida que nos abrimos camino a través de lo que es, con suerte, ahora una "endemia" en lugar de una "pandemia".
Les escribo hoy para invitarles a participar en un evento bastante literal de "caminar con" Jesús. Marquen ya en sus calendarios la Procesión Eucarística Diocesana que tendrá lugar el domingo 19 de junio a las 2 de la tarde. La procesión comenzará con un tiempo de oración y adoración en la Iglesia Católica de Nuestra Señora de la Gracia en Highland y concluirá en la Iglesia Católica de Santiago el Menor en Highland con la bendición, la reposición y un picnic organizado por los Caballeros de Colón. La distancia de nuestra procesión es de aproximadamente 1.5 millas. El 19 de junio es la solemnidad del Corpus Christi y también la celebración del Día del Padre. 
El propósito de la procesión eucarística es concienciar sobre la Presencia Real de Jesús en la Eucaristía y dar testimonio público de veneración hacia la Santísima Eucaristía. Como compartí en la clausura de nuestro sínodo en febrero, los obispos de los Estados Unidos han llamado a un Renacimiento Eucarístico Nacional durante los próximos tres años, que culminará en un Congreso Eucarístico nacional del 17 al 21 de julio de 2024, en Indianápolis.
El Renacimiento Eucarístico es un movimiento que sostiene y fortalece nuestras prioridades sinodales de ser discípulos y misioneros. La Eucaristía es la "fuente y cumbre" de nuestra fe y nuestra procesión será una hermosa manera de celebrar este gran regalo y de "caminar" juntos con Jesús.
En el último año, he participado en dos procesiones públicas en la ciudad de Gary, para Nuestra Señora de Guadalupe y el Domingo de Ramos. Las he vivido como verdaderos momentos de solidaridad con los demás, ya que estamos literalmente en movimiento. Estas procesiones también nos recuerdan que la vida de la iglesia se dirige hacia el exterior, para llevar nuestras buenas noticias y nuestro ministerio al mundo. Espero que caminemos juntos con Jesús en Highland el 19 de junio, la solemnidad del Corpus Christi.
¡Que tengas una Pascua Bendecida y llena de Alegría!
Tu siervo,
Reverendísimo Robert J. McClory
obispo
Diócesis de Gary