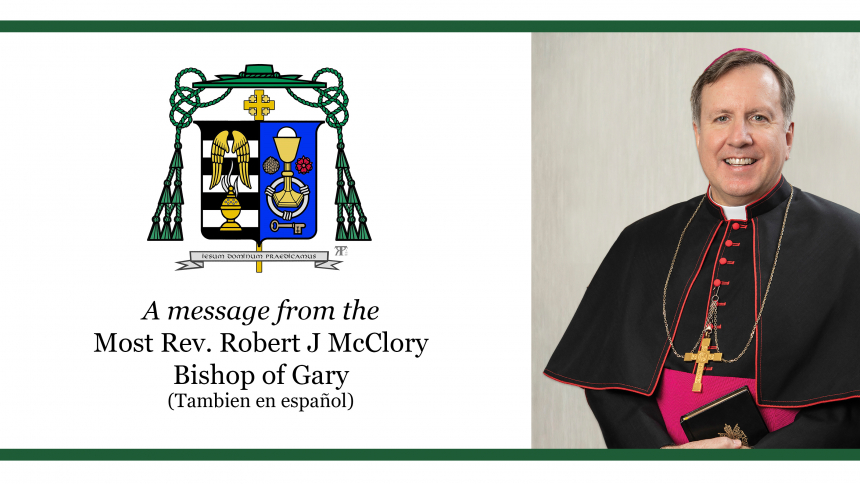 March Madness refers to the NCAA basketball tournament that occurs every March. It's a single-elimination tournament. One and done. If the team you pick as champion loses in the first couple of rounds, your bracket is, as they say, "busted." I am a bit of a sports nut, and always fill out a bracket. This year, I did a lousy job of picking winners. For the first time I can remember, I had zero correct teams in the Elite Eight. For those who are curious, I picked Arizona over Gonzaga. 
        What does this have to do with these final couple of weeks of Lent? Perhaps you made some commitments on Ash Wednesday and quickly found yourself failing to fulfill all that you had hoped to do.  The feeling can set in that you already lost the opportunity for a good Lent since you "busted" the first weeks.
        Interestingly, this year I was also sent an invitation to submit a new bracket and start from scratch after the first weekend of March Madness. Even if I had a lousy couple of opening rounds, I could reboot in another way by putting those first games in the past. 
        With Lent, we should not give up on the whole season if we have had a rocky start. We still have one more week of Lent, followed by Holy Week and the Triduum. My encouragement is that we begin again today as if it were a new Ash Wednesday. Assess your initial Lenten commitments and renew that commitment.
        It's never too late to turn our hearts to the Lord and reboot our Lent. Start again and with renewed energy.  I'd also encourage you to plan for the upcoming Holy Week liturgies:  Palm (Passion) Sunday, the Mass of the Lord's Supper on Holy Thursday, Good Friday of the Lord's Passion, the Easter Vigil, and Easter Sunday Masses. Contact your local parish to see when these services will be offered and commit to going to as many of them as you can. Make this a mini-retreat.
        As a part of that, I also invite you to our Chrism Mass at the Cathedral on Holy Thursday at 10:30 a.m.  It's a beautiful liturgy with the blessing of the Holy Oils and the priests of the diocese renewing their priestly commitments. Since many like to attend this Mass, please let your pastor know if you plan to attend Chrism Mass at the Cathedral.
        Lent is a season of repentance and renewal. Many of our parishes are reporting a significant increase in Mass attendance over the last few weeks. This is a good sign that the Holy Spirit is moving among us.  My prayer is that you will use these final days to ask the Holy Spirit to renew in you your Lenten commitments so that you may experience more deeply the repentance and renewal that the Lord offers to all of us.
        Have a great Lent and Holy Week!
______________________________________________________________________________________________________________________________________________
March Madness, Cuaresma y Semana Santa
        March Madness (la locura de marzo) se refiere al torneo de baloncesto de la NCAA que se celebra cada mes de marzo. Es un torneo de eliminación única. Uno y listo. Si el equipo que eliges como campeón pierde en las primeras rondas, tu bracket está, como se dice, "reventado". Soy un poco fanático de los deportes y siempre relleno un cuadro. Este año, hice un pésimo trabajo al elegir a los ganadores. Por primera vez que recuerdo, tuve cero equipos correctos en el Elite Eight. Para los curiosos, elegí a Arizona sobre Gonzaga. 
        ¿Qué tiene esto que ver con estas dos últimas semanas de Cuaresma? Tal vez hiciste algunos compromisos el miércoles de ceniza y rápidamente te encontraste con que no habías cumplido todo lo que esperabas hacer.  Puedes tener la sensación de que ya has perdido la oportunidad de una buena Cuaresma, ya que has "fracasado" en las primeras semanas.
Curiosamente, este año también me enviaron una invitación para presentar un nuevo bracket y empezar de cero después del primer fin de semana de March Madness. Incluso si tuve un par de rondas iniciales pésimas, pude reiniciar de otra manera poniendo esos primeros juegos en el pasado. 
        Con la Cuaresma, no debemos renunciar a toda la temporada si hemos tenido un comienzo difícil. Todavía tenemos una semana más de Cuaresma, seguida de la Semana Santa y el Triduo. Mi ánimo es que empecemos de nuevo hoy como si fuera un nuevo Miércoles de Ceniza. Evalúa tus compromisos iniciales de Cuaresma y renueva ese compromiso.
Nunca es demasiado tarde para volver nuestro corazón al Señor y reiniciar nuestra Cuaresma. Empezar de nuevo y con energías renovadas.  También los animo a planificar las próximas liturgias de Semana Santa:  Domingo de Ramos (Pasión), la Misa de la Cena del Señor del Jueves Santo, el Viernes Santo de la Pasión del Señor, la Vigilia Pascual y las Misas del Domingo de Resurrección. Ponte en contacto con tu parroquia local para ver cuándo se ofrecen estos servicios y comprométete a ir a todos los que puedas. Haga de esto un mini-retiro.
        Como parte de esto, también les invito a nuestra Misa Crismal en la Catedral el Jueves Santo a las 10:30 a.m. Es una hermosa liturgia con la bendición de los Santos Óleos y los sacerdotes de la diócesis renovando sus compromisos sacerdotales. Como a muchos les gusta asistir a esta misa, por favor avise a su párroco si piensa asistir a la Misa Crismal en la Catedral.
La Cuaresma es un tiempo de arrepentimiento y renovación. Muchas de nuestras parroquias están informando de un aumento significativo de la asistencia a misa en las últimas semanas. Esto es una buena señal de que el Espíritu Santo se está moviendo entre nosotros.  Mi oración es que utilicéis estos últimos días para pedir al Espíritu Santo que renueve en nosotros nuestros compromisos cuaresmales para que podamos experimentar más profundamente el arrepentimiento y la renovación que el Señor nos ofrece a todos.
        ¡Que tengan una buena Cuaresma y Semana Santa!
Your servant,
The Most Reverend Robert J. McClory
Bishop
Diocese of Gary