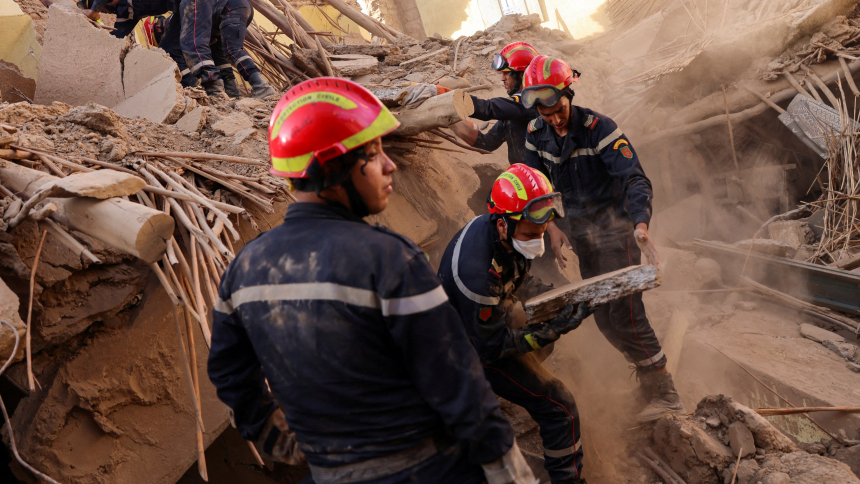 (OSV News) - Rescuers continue to search through the rubble in the hopes of finding survivors after a powerful earthquake struck Morocco the night of Sept. 8, killing more than 2,800 people and causing widespread destruction.
Search and rescue teams continue their attempt to reach those in isolated villages closer to the earthquake's epicenter. Previous attempts to help had been delayed by fallen rocks covering the roads leading to the hard-hit rural communities.
The deadly quake's epicenter was reported to be in the High Atlas mountains, about 44.7 miles (72 kilometers) southwest of historic Marrakech, a city of about 840,000 people. The villages in these areas were reported to have suffered the worst destruction, with buildings falling and killing many of the villagers while they were asleep.
Even as some aid was starting to reach the villages Sept. 9 and 10, media reports shared that survivors were struggling to find food, water and shelter.
The Sept. 8 earthquake struck shortly after 11 p.m. local time, according to the U.S. Geological Survey, which said its preliminary magnitude was 6.8 and it lasted several seconds, with a 4.9 aftershock hitting the area minutes later. The quake was the strongest to hit that part of the North African nation in 120 years, according to USGS.
On Sept. 11, Morocco's interior ministry confirmed the earthquake's death toll had risen to 2,862, as of 3:40 p.m. ET. Authorities warned that these numbers are expected to rise. The ministry said there are over 2,500 people injured, with at least 1,404 in critical condition. According to CNN, state media reported that most of the dead - nearly 1,500 - were in the Al Haouz district in the High Atlas Mountains.
"The next 2-3 days will be critical for finding people trapped under the rubble," Caroline Holt, global director of operations for the International Federation of Red Cross and Red Crescent Societies, told Reuters.
Soon after news of the devastation spread, the Archdiocese of Rabat - which has churches in Marrakech and Ouarzazate that suffered minor material damage -- urged prayers for those affected through a message posted on social media. "Let us pray with Our Lady of Morocco for the victims and their families," the archdiocese said.
In a Sept. 9 telegram, Pope Francis expressed his sorrow and "deep solidarity" with the people of the North African nation, praying for those who perished, healing for the wounded and consolation for those mourning the loss of their loved ones and homes, Vatican News reported.
The pope continued expressing his proximity to the Moroccan people "stricken by a devastating earthquake" after the Angelus prayer Sept. 10. He also thanked "the rescue workers and those who are working to alleviate the suffering of the people."
"May concrete help on the part of everyone support the population at this tragic time: Let us be close to the people of Morocco!" he said.
With roads damaged or blocked, rescue teams had difficulty reaching the hardest-hit areas. The Associated Press reported that authorities were working to clear roads in Al Haouz province to allow passage for ambulances and aid to those affected. But large distances between mountain villages meant it will take time to learn the extent of the damage, said Abderrahim Ait Daoud, head of the town of Talat N'Yaaqoub. CNN reported that the Moroccan army cleared a key road from Marrakech to the mountains early Sept. 10.
Ayoub Toudite, from the mountainside village of Moulay Brahim, told AP that his village was inhabitable after the earthquake. "We felt a huge shake like it was doomsday," he said. In 10 seconds, he said, everything was gone. "We are all terrified that this happens again," Toudite said.
Social media videos from Sept. 8 showed buildings collapsing and there were reports of people trapped amid the rubble in the city. "People were all in shock and panic. The children were crying and the parents were distraught," when the deadly earthquake hit, Abdelhak El Amrani told the Agence France-Presse news agency.
The BBC reported that many Moroccans "spent the night out in the open as the Moroccan government had warned them not to go back into their homes" in case of severe aftershocks. Those whose homes were destroyed by the earthquake slept outside again Sept. 9, CNN reported.
Media reported that Indian Prime Minister Narendra Modi opened the G20 summit Sept. 9 with "heartfelt condolences" to everyone affected by the quake. Other world leaders expressed their condolences and offered support, with many countries - including France, the United States, Germany and Turkey - saying they are ready to assist Morocco following the disaster. Algeria, which severed diplomatic ties with Morocco in 2021, offered to open its airspace to allow humanitarian aid or medical evacuation flights, according to reports.
On Sept. 9, U.S. President Joe Biden shared multiple messages expressing sadness at the loss of life and devastation following the earthquake and stating that "the United States stands by Morocco" during this difficult time. "My Administration is ready to provide any necessary assistance for the Moroccan people," he said on X, previously known as Twitter.
He also addressed the deadly earthquake as he began his news conference in Hanoi, Vietnam, where he was on a diplomatic visit following his attendance at the G20. "I want to express my sadness by the loss of life and devastation caused by the earthquake in Morocco," Biden said. "Our thoughts and prayers are with the people in Morocco," Biden said, adding that he also is working with Moroccan officials to ensure U.S. citizens in Morocco are safe.
On Sept. 9, the Royal Palace announced three days of national mourning following the disaster. Morocco's King Mohammed VI has mobilized the country's military for search and rescue missions as well as a surgical field hospital, according to AP. The government also ordered water, food and shelter to be sent to those who lost their homes.
On Sept. 10, AP reported that, according to Rescuers Without Borders, teams totaling 3,500 rescuers registered with a U.N. platform were ready to deploy in Morocco when asked. The news agency added that, even as some international help is arriving, the Moroccan government has not made an international appeal for help as Turkey did after a massive quake devastated the country in February. Other countries like France were waiting for Morocco's formal request to immediately assist.
It was later reported that the interior ministry said it had accepted search and rescue aid from four countries: Britain, Spain, Qatar and the United Arab Emirates.
A Sept. 9 statement from the Archdiocese of Rabat expressed solidarity with the victims, "especially for those Moroccan families who are mourning or who have injured family members," and urged the faithful to pray and to help those affected.
"We are appealing for emotional and effective solidarity with those in distress at this time," said the statement posted on the archdiocesan website, adding that Caritas will be working to make aid available to help where the need is most urgent.
The director of Caritas Rabat will visit sites affected, and initial emergency aid is being prepared, according to a Caritas statement posted on the archdiocesan site.
Cardinal Cristóbal López of Rabat planned to preside over a Sept. 10 Mass in Marrakech for all the victims. He also encouraged all communities to pray, express compassion to local authorities and organize solidarity.
"May God help us to draw positive consequences from this painful event, by transforming our hearts into hearts of mercy, solidarity and tenderness towards our brothers and sisters in distress," the archdiocesan statement said.
Caption: Emergency workers look for survivors in Amizmiz, Morocco, Sept, 10, 2023, in the aftermath of a deadly magnitude 6.8 earthquake. An aftershock rattled Moroccans that day as they mourned victims of the nation's strongest earthquake in more than a century Sept. 8, killing more than 2,000 people, a number that is expected to rise. (OSV News photo/Nacho Doce, Reuters)