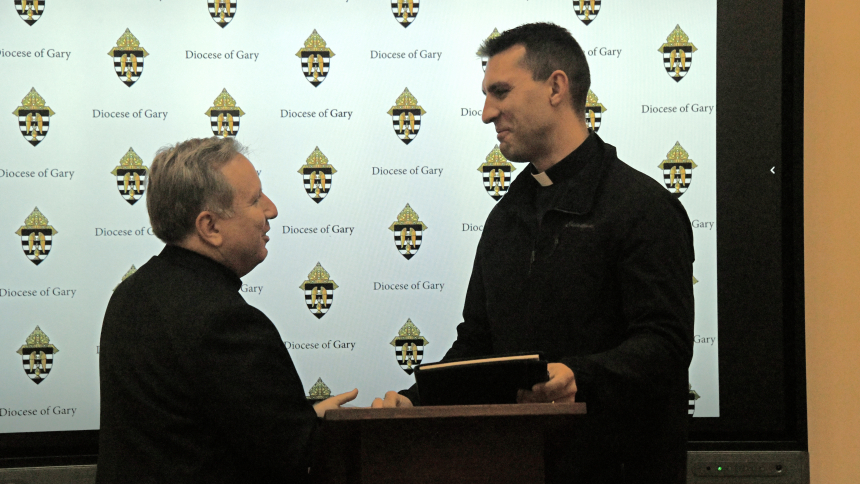 Chief of Staff to return to home state, Bishop names Moderator of the Curia
MERRILLVILLE – After more than five years serving as Chief of Staff under both Bishop Donald Hying and Bishop Robert J. McClory, Michael Wick will complete his service to the Diocese of Gary on June 3, 2022. Following prayer and discernment, Wick has decided to return to his home state of Wisconsin where he will assume Chief of Staff duties for Bishop Hying in the Diocese of Madison.
"Mike has served so very faithfully here, and I am very grateful for his exceptional service in helping me to transition to the Diocese and providing fine leadership in the midst of COVID-19." said Bishop McClory. "We have all journeyed with Mike and his family, particularly as they laid his beloved wife, Bianca, to rest last year. Mike has a servant's heart and will be truly missed."
Wick said he wished to express his thanks to Bishop McClory for his kindness and graciousness. He recalled being asked to come to work in Indiana in December 2016 and joked that his new role quickly became "baptism by fire" as the diocese prepared for Pentecost and the Synod 2017. He added that serving with Bishop McClory when the COVID-19 pandemic hit, allowed him to experience how the bishop assembled a leadership team to face those challenges.
"He has taught me a lot in the time we have spent together. His experience and pastoral zeal have been something that I know I can continue. I'm bringing a lot more tools in my bag to Madison because of Bishop McClory," said Wick.
With Wick's departure, effective June 4, Bishop McClory has appointed Father Christopher Stanish as Vicar General and Moderator of the Curia for the Diocese of Gary. In this role, he will succeed Wick in providing leadership to the Pastoral Center staff and assist the bishop in advancing the mission here in Northwest Indiana to be both disciples and missionaries that "proclaim Jesus as Lord." 
As of July 1, Father Stanish will be dedicated to full-time service in the Pastoral Center and on that same date a priest to be determined will succeed him as Chaplain of the St. Teresa of Avila Catholic Student Center at Valparaiso University. He will continue as Vocations Director for the time being in addition to his new roles.
Father Stanish thanked Bishop McClory for "his confidence in me. Oftentimes when you think of a Vicar General or Moderator of Curia you often think of someone with far more years and experience."
He said he is looking forward to the transition and being able to serve the diocese in a greater way. He shared he accepted the position after meditating on the phrase, "Be faithful, it's worthwhile."
"In many ways I feel like the first disciples when Jesus appeared at the Resurrection," said Father Stanish. "They were both terrified but also incredulous with joy – these two emotions simultaneously."
"Bishop McClory is so firmly convicted that God has great things planned for the Diocese of Gary and in talking with him, I completely agree with him wholeheartedly," he added.
As Vicar General, Father Stanish will succeed Father Brian Chadwick. Father Chadwick has carried a dual role of Vicar General and Judicial Vicar since Father James Meade's death almost a year and a half ago. Father Chadwick will continue to serve as Judicial Vicar and will have special faculties to address various marriage situations and clergy matters.
"I would like to thank Father Chadwick for carrying this heavy load for some time, in addition to his ongoing responsibilities as administrator of Our Lady of Grace in Highland. I am grateful for his willingness to continue serving the needs of the wider diocese, as he has done for many years now," said Bishop McClory.
Father Stanish echoed those same sentiments, sharing his appreciation for the work of Father Chadwick.
He said, "Him taking on this role of Judicial Vicar and Vicar General when Father Meade passed away, not to mention his role in the parish as a pastor – It really was a lot of work so please know of the gratitude I have for him."
Under canon law, a diocesan "curia" is the term that would include the Pastoral Center and refers to those "institutions and persons which assist the bishop in the governance of the whole diocese, especially in guiding pastoral action, in caring for the administration of the diocese."  (Can. 469) A moderator of the curia is akin to a chief of staff, though the moderator must be a priest "who, under the authority of the bishop, is to coordinate those things which pertain to the treatment of administrative affairs and to take care that the other members of the curia properly fulfill the office entrusted to them." (Can. 473). The canons contemplate that the Moderator of the Curia would also be the Vicar General. (Can. 473) A Vicar General has a wide range of authority to exercise on behalf of the bishop over the whole diocese. (Can. 478)
"I thank Father Stanish for his willingness to take on the role of Vicar General and Moderator of the Curia," said Bishop McClory. "He brings many talents and skills to these new responsibilities, and I look forward to the blessings we will all receive as he begins this new ministry."