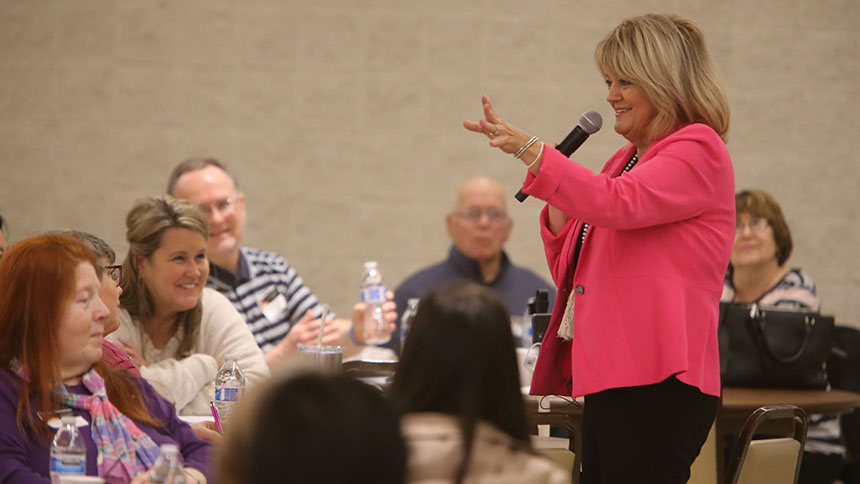 "You will receive power when the Holy Spirit comes upon you, and you will be my witnesses."
-       Acts 1:8
MERRILLVILLE – When young Barbara Heil had a life-changing encounter with Christ and went to bible school to become a missionary, she received a certificate for completing the course, "How To Win a Catholic."
Decades and hundreds of missions later, as presenter at the Diocese of Gary's New Evangelization Conference on April 30 at Our Lady of Consolation, Heil put a different spin on that goal by convincing her audience that God has called all of them to be winners for Jesus Christ.  
"It's time to stop the talking and do the walking," Heil challenged her audience.
"What was the Good News that Jesus preached?" Heil asked. "He was declaring that the heavens have opened and there is a Kingdom! Everywhere we go, we bring the Kingdom with us. Everywhere I go, Jesus is there."
"We don't see ourselves as being disciples, but we've got the power (of the Holy Spirit), baby," said Melinda Ziegler, a parishioner at St. Raphael in Naperville, Ill. who was invited to the conference by a friend, Julie Wojcik of Queen of All Saints in Michigan City. "The Synod 2022 planning will be the thing that draws us all together, to see ourselves as disciples and start doing the work (to evangelize)."
Ziegler said she liked Heil's statement that, "We need to look at the word baptism not as a noun, but as more of a verb."
Mary Sypnieski, also from Queen of All Saints, admitted that Heil's message convinced her that "We could be doing better in our parish and groups to share (the Good News)."
In the third and final section of her program, Heil encouraged the attendees to take the next step. "How (can) I love Jesus more, fall more in love with him? Spend more time with him, focus on my beloved," she said. "How do you get to know someone? Talk to them. Go to his words, the Bible, and know what the heart of Jesus said.
"The best way I can give Jesus praise and honor is to receive and value the gifts, the charisms, he has given to me, the fruit of the Spirit," Heil urged. "Am I called to activity, to say anything about Jesus (to others)? Yes I am, because (his family) is my family and it's my Kingdom, too."
Leann Grady, of Highland, and Susan Woerner, of Griffith, both parishioners at St. James the Less in Highland, exchanged ideas between sessions. "We're so busy that we forget what the most important thing is," Grady said of having a deep, personal relationship with God.
"All of us have felt God working in our lives, in small and big ways," added Woerner. "I'm still a work in progress, and (God) does need to push us sometimes."
Keeping with the theme of winning, Heil compared evangelism to a horse race. "We have our blinders on, because (we are so busy) running our own race," she said. "Your assignment is to take the blinders off and start looking at people and acknowledge their humanity. A person sees when you see them, and you'll be stunned with the response from people who see you seeing them."
Kevin Zarlengo, a parishioner at Our Lady of Perpetual Help in Chicago, said a social media post drew him to the Merrillville conference. "God is always of interest to me, and I thought this would be a good experience, but never could I have expected how inspiring it would be," he said. "Let the Holy Spirit lead you, and you can let others see what's happening to you."
Heil prayed aloud with the gathering as they stood and raised their hands toward the heavens, telling them, "You are not just called; it is your gift (to share the Good News). You are representing God to all of your world."
"I love (Heil's) conversion story," said Jill Hartog of St. Michael the Archangel in Schererville. "I want to be like her 'when I grow up.' I want to have her (devotion) to the Holy Spirit. Everything she does is led by the Holy Spirit."
Also from St. Michael the Archangel, Hartog's tablemate Mary Ann Villanueva agreed. "We need the Holy Spirit to inspire us to evangelize; that's what drew me to this conference," she said. "When they sent out the email, I knew I had to be a part of this. I love Barbara Heil's love for the Lord."
Sean Martin, diocesan director of Evangelization, Catechesis & Family Life, gave the closing message: "We look forward to setting the Diocese of Gary on fire for the love of God."