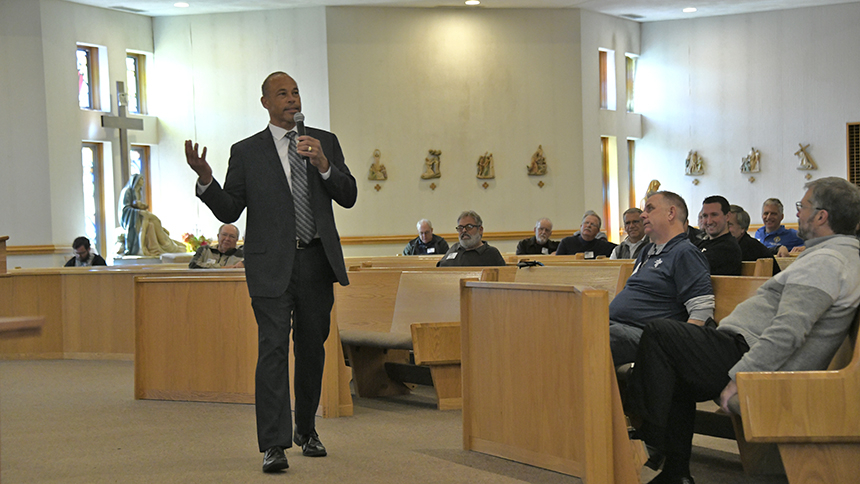 CHESTERTON – Amid what many see as one crisis after another in our nation and world, men who participated in the annual NWI Catholic Men's Conference were blessed with the opportunity to take time to focus on their faith and strengthen their relationship with our Eucharistic Lord.
At St. Patrick church in Chesterton on Oct. 8, three guest speakers, as well as Bishop Robert J. McClory, who presided at the Mass to start the event, reminded Source & Summit conference-goers of core beliefs in the Eucharist, a source of nourishment which through the mystery of Christ's Body and Blood the faithful are emboldened for mission. 
Speakers, including a convert to the Catholic Church, emphasized Scripture and Church Tradition that describe the Bread of Life as "real food and real drink." But they also said that beyond intellectual knowledge of the Eucharist, our soul-level identity stems from who we proclaim Jesus is.
"Jesus asked, 'Who do you say I am?'" said speaker Deacon Darrell Miller, who was ordained for the Diocese of Orange in California last year.
"Who responded to Jesus' question?" Deacon Miller asked.
Audience members replied, "St. Peter."
Deacon Miller explained that the confession of faith made by the Church's first pope, identified him as a true believer, not the type of follower that tapped out once the Lord talked about eating his body and blood, as written in the Bread of Life Discourse.
Deacon Miller implored the men at the conference to remain active in the spiritual battle of the day, where good churchmen are targeted for destruction.
"That's what Satan is doing, he's attacking our supply; he's taking us out," Deacon Miller said, drawing comparison to the war in Ukraine. "That's what you do when you're trying to win a war, you starve out the enemy."
He continued, "We're in a battle here, we're in the fight of our life. We can't be comfortable receiving and receiving and not becoming the Eucharist to others."
Deacon Miller said the faithful can be agents of change: "How dare us think we can't change the world?"
Deacon Miller is a former Major League Baseball player, who was on the roster of the California Angels from 1984-1988. He has two even higher-profile siblings, Cheryl Miller, an Olympic gold medalist in basketball and Reggie Miller, a former 18-year star shooting guard for the Indiana Pacers and basketball hall of fame member.
The new deacon opened up about mourning the loss of his father, an Air Force veteran, jazz musician and ordained deacon who passed away in August. He said his father, "made sure we all went to church."
A former Baptist, Deacon Miller said he "kept trying to convert" his wife Kelly Miller, who is a Catholic. But the more she resisted and the more he delved into the Bible, he found he was surprised by the truth of the Church's teachings – like how the Holy Eucharist is spelled out in John Chapter 6.
Author Jim Beckman, who is executive director of ImpactCenter, a Catholic leadership development resource, told the men gathered that Jesus, who gives "living waters," is the only one who can ultimately provide rest for weary souls who are parched and thirsty.
"Take courage friends, these are tough times, even dark times, but we can take courage from all those who have traveled before us," Beckman said, listing historical exiles and pandemics of old.
Rest is found, according to Beckman, not in the secular notions offered as solutions to life's problems, but rather "in the deep," the core identity of our Catholic faith.
That "Catholic resilience" is a process of accepting trials, stresses, and sufferings "to see those crosses from a loving and attuned God as gifts to make us holy," he said.
Dana Trudeau of Valparaiso said he found himself coming to the Men's Conference in the midst of a spiritual dry spell, as well as economic stressors.
The 38-year-old stay-at-home dad who manages the parenting responsibilities for his three children when his wife is in her home office has been seeking a retreat atmosphere for years.
He said going from working excessive overtime to spending more time with his children has been a blessing. But a look at the news on any given day, though, has him repeating the mantra, "we're in this world, but not of it."
"It is super stressful, so I'm trying to create a world for my family that is set apart from that," Trudeau said. "I know I need to be fed somehow so I can help feed my family in a spiritual sense."
In his sermon, Bishop McClory spoke of Jesus' extended family, who are "everyone who hears (Jesus') word and observes it."
The bishop reflected on St. Paul's writings to the Galatians informing believers that their faith in Jesus Christ frees them from the trap of trying to perfectly fulfill the law.
"We have faith in Jesus, and we turn ourselves more completely over to his love, (so) that when the Father looks at us, he does it through the lens of (seeing) Jesus himself," Bishop McClory explained.
Among the speakers introduced by Sean Martin, diocesan director of evangelization and religious education, Father Leo Patalinghug reprised his appearance at St. Patrick from the night before, when the United States Conference of Catholic Bishops Eucharistic preacher presided over a Holy Hour.
Father Patalinghug spoke of Jesus as a man who changed the world while still being a "mama's boy."
The preacher turned the idea of being a "macho man" on its head. Without invoking any disco anthems, he simply recommended that the guys present should identify as "Marian men – men after Mary's heart. That's where the Son of Man was first made known," Father Patalinghug said.
Seventeen-year-old Grady Pierce, who was taking part in his third such retreat with his dad Ivan Pierce, said he has the example of St. Mary and Jesus as well as his family to help offset society's measure of a man "that keeps on changing."
"I have a good dad to look up to. Watching him as I've been growing up, he shows me how I should be going through life," said the Boone Grove High School senior.
Enjoying fellowship over lunch at St. Patrick's Trinity Hall, Juan Temores of Holy Family Parish in LaPorte said he was attending his first such religious conference to become a better person.
"My co-workers are going to be asking me what I did on Saturday," said Temores. "I'm going to talk to them, but it's hard to talk about God in the workplace. I'm going to try to find a way to communicate and bring Jesus there and ask for the courage."