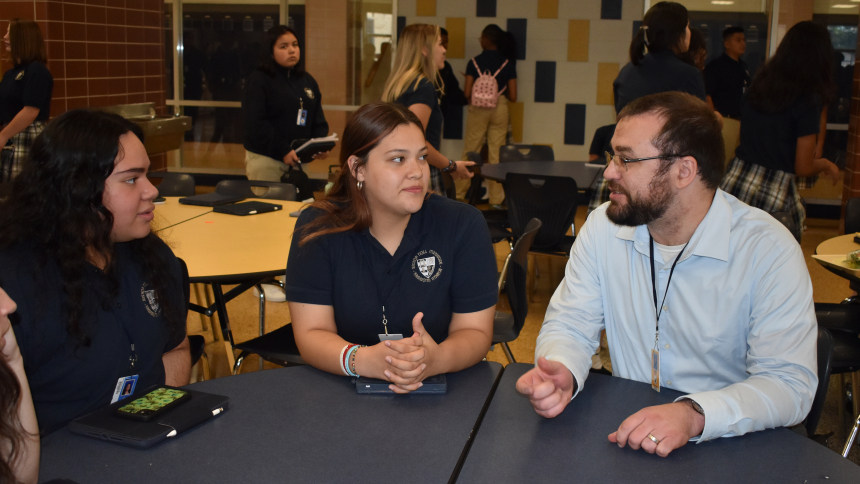 While classroom teachers are charged with preparing lesson plans that lead students to academic success, campus ministers at the three Diocese of Gary high schools are responsible for developing life plans that guide young people toward a lifetime of faithful service to God.
Accepting that challenge this year are Liv Sensenbrenner at Andrean High School in Merrillville, Matthew Pysh at Bishop Noll Institute in Hammond, both new, and Anthony Holt, also an academic advisor for the past two years at Marquette Catholic High School in Michigan City.
Sensenbrenner, a New Orleans native, earned a bachelor of arts in Theology and Religious Studies from Catholic University in Washington, DC last spring and has been assigned to Andrean while pursuing her master's degree in Theology through Echo, a two-year service-learning, formation program through the Institute for Church Life at the University of Notre Dame.
"I'm in charge of all the monthly service projects for the students – pray, serve or donate – and for August that involved a Back to School Supply Drive starting Aug. 22," said Sensenbrenner, who answers to "Ms. Senbren" with her students. "As the liturgical minister, I set up for Masses, assign Extraordinary Ministers of Holy Communion and lectors, and create a space where students feel encouraged to participate rather than sit passively."
The year's first all-school liturgy is the Founders' Day Mass, set for 9:25 a.m. Wednesday, Sept. 14, in the school gym, with Father Jacob McDaniel, chaplain, presiding.
The daughter of Madeleine Landrieu and Paige Sensenbrenner, both lawyers, Sensenbrenner has three older sisters, Erica (Nick) Bergeron, and Hannah and Alex Sensenbrenner.
"I've done ministry work in different ways for a long time, serving on multiple retreat teams, and as a student minister in college," Sensenbrenner said. "I just really enjoy listening to people and their faith stories, and walking with them on their faith journey and when the Lord has been working in their life."
A collegiate tennis player, Sensenbrenner is coaching freshman volleyball at Andrean this fall and hopes to help out with tennis in the spring. "I love (young people) this age, when they are searching. If I can be a vessel for the Lord's grace in their lives, that would be exactly what I'm here for, and I have endless gratitude for that possibility," she said.
Sensenbrenner is also grateful to be ministering to high schoolers during the Eucharistic Revival in the United States. "The Eucharist is everything to them, but a lot of them just don't know it," she said of the teens. I don't think a lot of them, because of their age, realize that the Bible means what it says: 'This is My Body and Blood.'
"I hope to convey that this is The Real Presence in welcoming these students to Mass in a special way – not only is Jesus always with you, but he is the Eucharist and I want to encourage them to think about that and reflect on it," added Sensenbrenner, who recalls how inspired she was by "all 25,000 of us on our knees in adoration at NCYC (National Catholic Youth Conference). It changed my life when I saw that zeal for the Catholic faith; young people in love with the Lord and faithfully Catholic."
While Sensenbrenner is just out of college, Pysh arrived at BNI last month after eight years of working with young people as director of youth ministry at St. Paul in Valparaiso, having served as a missionary for the Catholic youth ministry movement Life Teen while earning a bachelor's degree in Theology with a minor in Philosophy at St. Mary's University in Winona, Minn.
"I really started to understand the Catholic faith while I was in high school, and since then it has always guided my life. It has led me to study what I loved and what interested me (theology) and to people who have shaped my life, including my wife of eight years, Lorelle. My faith has connected me to others from around the world and keeps me striving to be the best version of myself," said Pysh, whose family also includes children Joel, 6, Regina, 4, and Cora, four months, as well as his parents, Tom and Tina Pysh of Valparaiso.
"As campus minister, I make sure the school stays focused on our Catholic identity and living out our call to make sure our students don't just have sharp minds, but compassionate hearts. I will be in charge of organizing and running the retreats for each of the classes.  I also organize the liturgies at the school," said Pysh.
In terms of the Holy Eucharist, Pysh said, "I challenge them to live out their faith in the school and accept the opportunity to receive the Eucharist as a student body. They need that opportunity, and it can strength them in their faith."
Noll hosted its first all-school Mass of the year on Aug. 30 with presider Father Jeff Burton, chaplain, who suggested Pysh apply for his new position. "He said he thought I would be a good fit, and the rest is history," said Pysh, a gaming enthusiast who plays and watches soccer and disc golf and also plays video games, board games and Dungeons & Dragons.
Holt, a Michigan city native who attended St. Mary of the Immaculate Conception School and Marquette Catholic High School, is an Education major at Ivy Tech College and is starting his third year as an academic adviser at Marquette. An accomplished organist/pianist and vocalist who serves as music director at St. Mary parish, he performs with the Michigan City Messiah Chorus and enjoys art shows, music festivals and lectures.
Adding the role of campus minister at Marquette with assistance from theology teachers Kristin Scandora and Gianni Nicholas, also an Echo graduate student, means that Holt will be "working with our assigned priest, Father Roque (Perez) to plan Masses and offer spiritual opportunities for our students," including the first all-school Mass of the school year at 1 p.m. Wednesday, Sept. 14, at St. Mary church, with Bishop Robert J. McClory presiding.
The Marquette ministry team will also be leading the first in a series of off-site, week-long Kairos retreats for juniors and seniors in October, an important faith-building experience
"I am looking forward to helping develop, especially with the freshmen who were involved in service, their transition to high school, and to watch them grow spiritually," Holt said. "I would like to see more students participate in campus ministry, give them an opportunity to be peer ministers.
The Holy Eucharist is very important to Holt, whose family includes a brother, Jeffery (Bobbi) Holt and nephews and nieces Christopher, Michael, Kihyle and Chloe, and a sister, Jennifer Holt, because he is a convert. "I grew up Protestant, so the Eucharist is 'the real deal' to me," Holt said. "The first thing I talked about to the students at orientation was all of the Church going back to the basics – What do we believe? Why do we believe?
"We believe in the presence of Jesus in the Eucharist," Holt added, "and that's why it is important to be respectful and to respect others. The Eucharist is the basis of our faith, and if you don't believe that, you don't believe the rest of the Catholic teachings."