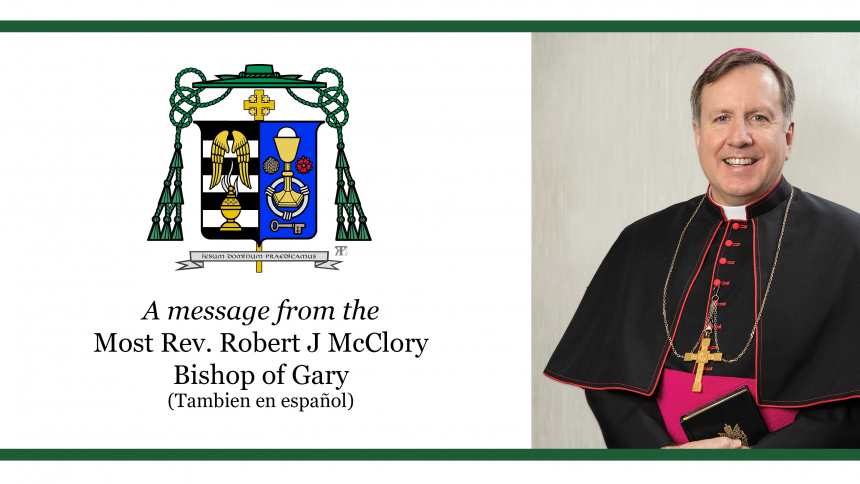 Baby Showers, the Blessed Mother and serving moms in need
 
Dear brothers and sisters in Christ:
My family will soon be blessed as we anticipate the birth of my first great niece/nephew in the coming weeks. How does one prepare for such an event? A baby shower. Of course, there are many other ways to support an expectant family, but a shower is a celebration and a showering of gifts in anticipation of birth. We intuit that there are needs to be met and do our part to celebrate and help.
During this Respect Life Month, we should be even more attentive to this year's theme: "Called to Serve Moms in Need." In doing so, we are imitating the Blessed Virgin Mary. She responded to serve her cousin Elizabeth when she was in need, expecting a child. Perhaps it was not a baby shower as we have come to know in our culture, but it certainly was Mary showering her cousin (and the in utero John the Baptist) with love and care.
We read in the Gospel of Luke that Mary wasted no time in learning of Elizabeth's condition. Elizabeth joyfully was blessed with a baby in her womb, but due to her old age this would have been considered a high risk pregnancy. So Mary traveled "in haste":
"During those days Mary set out and traveled to the hill country in haste to a town of Judah, where she entered the house of Zechariah and greeted Elizabeth. When Elizabeth heard Mary's greeting, the infant leaped in her womb…" (Luke 1:39ff)
Mary was called to serve a mom in need. So, she moved with joy and speed to do her part. We are told "Mary remained with her about three months and then returned to her home." (Luke 1:56) Mary herself experienced many trials in bringing Jesus into the world and caring for him, including misunderstanding from the people closest to her, and sometimes even danger. Yet God was with her always.
All of us are called to support both mother and child, to love them both, to help mothers as they prepare to accept the baby developing in their womb. As a church, we know that every child is a blessing from God, regardless of the circumstances of his or her conception. All human life is sacred. God has a plan for every person – every mother, and every pre-born child.
The Catholic Church has a long history of service to those who are most vulnerable and remains the largest private provider of social services in the United States. The Church in the United States has countless ministries dedicated to helping mothers facing challenging pregnancies and those who may struggle to care for their children after they are born. From religious communities to pregnancy care centers and parish-based ministries, the Church consistently bears witness in word and deed to the beauty and dignity of every human life – both mother and child.
Here in the Diocese of Gary we have many ministries that put our teaching on life into practice. Our website has a cumulative listing of resources (dcgary.org/culture-of-life). Our Gary Diocese Pro-Life Office can help connect you with a ministry so you can be part of this great mission of mercy. These ministries include Women's Care Centers (four locations in Northwest Indiana), Catholic Charities, St. Vincent DePaul Society, Mommy's Haven Maternity Home, Safe Haven Baby Boxes, Gabriel Project, Sojourner Truth House and Franciscan Health's Prenatal Assistance Program. Of course, one does not need to sign up for a ministry to be an agent of God's love to any mom we meet who is in need.
With the Supreme Court's decision in Dobbs v. Jackson Women's Health Organization, we are grateful that the U.S. Constitution is no longer construed to allow the intentional taking of innocent human life in the womb. The landscape is changing and we will hopefully see a decline in the number of abortions. Our call is not to simply to change the law, but to change hearts and minds. We need to redouble our efforts to help those who might otherwise seek out abortion to know that there is a better way. We are here to help both before and after birth.
Let's look around us and see who might need a "baby shower." Perhaps not with all the games and party festivities, but in need of a showering of love, resources and care. Let's show the world that we are "Called to Serve Moms in Need."
Your servant,
Most Reverend Robert J. McClory
Bishop
Diocese of Gary