Saturday

,

January

8
from
9:30 AM
to
6:30 PM
Register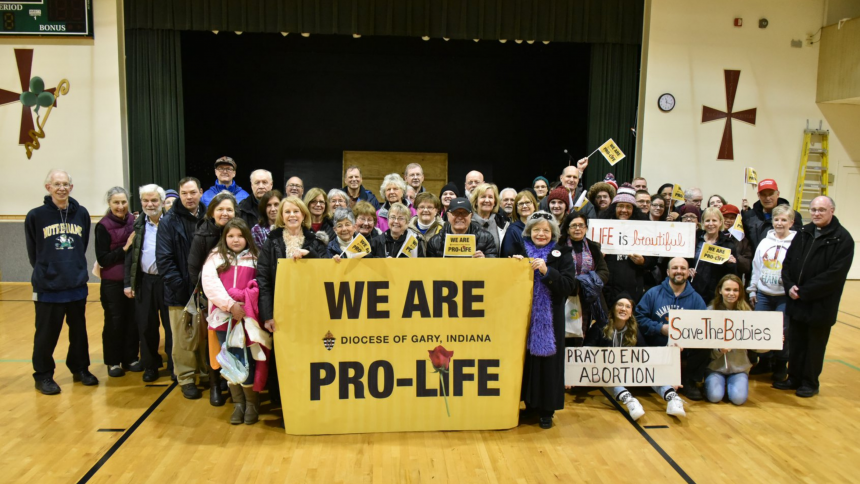 The Diocese of Gary will be hosting a bus trip to the March. Come join us!
Join thousands at the March for Life Chicago 2022 as we come together from across Chicago, the Midwest and the U.S. to defend, protect and celebrate LIFE!
All are welcomed (families, singles, youth groups) and encouraged to participate in the March, whether you travel with us, with another group or go on your own. If you plan to go on your own, please register for the convention at the March for Life website
If you plan to join us on the bus, please register below. (We will use this information to also register you for the MFLC convention).
The cost is $10 per person, or $40 for a family of 4 or more. Please note that payment is for a reserved seat on the bus ONLY. We will not be providing any food or water. Please feel free to bring your own. There will also be time to purchase and eat lunch at nearby restaurants in Chicago.
Why we March: To proclaim the dignity of life from conception to natural death through a prayerful, joyful witness.
Why MFLC: It's convenient; it's free; it's inspirational, and it's Life Saving. This year they have expanded the March, including the convention center where we will be able to explore before and after the March.
Please Note, registrations are on a first-come, first-served basis. Depending upon response we are planning on reserving 2 or possibly 3 buses. Once they are filled, we will no longer accept new registrations. If you register and your plans change, please let us know right away so we can free up your seat for someone else.
Registration cut-off is December 30, 2021. This is also the last day for any refunds for cancellations. After December 30th, there will be no registration money refunded.
Children not accompanied by parents (such as a youth group or friends of a family) will need a Diocese of Gary permission slip signed by the parents
Pick-up and drop-off Location: Our Lady of Consolation, 8303 Taft St, Merrillville, IN 46410 
​Please park in the north parking lot, farthest away from the church
SCHEDULE
9:30 am Kick-off Mass at Our Lady of Consolation (open to everyone- come and pray even if you are not attending the March)

10:15-10:30 am Gather, check-in, and load buses

10:30-11:30 am Travel and arrive at the hotel/convention center (Hilton)

11:30 am -12:30 pm Explore the center / Lunch 

12:40-1:00 pm Walk to the Rally

1:00 - 3:00 pm Rally and March

3:00- 4:00 pm Explore the convention center (hotel)

4:00 pm Mass at hotel (fulfills Sunday obligation)

5:15 - 6:30 pm Load buses from hotel and travel back to Our Lady of Consolation
​
All participants must be registered and prepaid to secure a seat on the bus. The registration form is below. You can pay by credit card or by check ("pay later" option) payable to the Diocese of Gary and sent to:
​
Diocese of Gary
March for Life Bus Trip
9292 Broadway
Merrillville, IN 46410
​
Those paying by check will only be registered once their check is received by the Diocese. DO NOT send a check without first registering below!