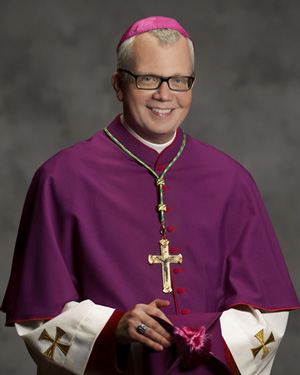 Most Reverend Donald J. Hying, installed as the Fourth Bishop of Gary on January 6, 2015, was ordained to the priesthood for the Archdiocese of Milwaukee on May 20, 1989.  On July 20, 2011, he was ordained the seventh Auxiliary Bishop for the Archdiocese of Milwaukee.  Prior to being named auxiliary bishop, Bishop Hying served as rector of Saint Francis de Sales Seminary from 2007 to 2011, appointed by then-Archbishop Timothy M. Dolan. 
Bishop Hying is a native of West Allis, Wisconsin.  He was born to Albert and Catherine Hying (both deceased) on August 18, 1963, and is the youngest of six sons. He attended St. Aloysius and Immaculate Heart of Mary grade schools, Brookfield Central High School and Marquette University.  He earned his Masters of Divinity from Saint Francis de Sales Seminary.
Bishop Hying serves as the Episcopal Liaison for National Association of Catholic Chaplains and as Episcopal Advisor to the   U.S. Society of St. Vincent de Paul.  He is also a member of United States Conference of Catholic Bishops' Subcommittee to Aid the Church in Central and Eastern Europe and the Committee on the Protection of Children and Young People and the Committee on Catholic Education.
---
Following are links to Bishop Hying's featured Pastoral Letters  "Go, therefore, and make disciples of all nations..."